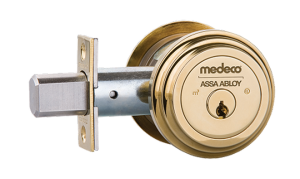 When it comes to the locks on your commercial property, quality is extremely important. After all, many commercial buildings house hundreds of thousands, and sometimes even millions of dollars' worth of resources. If someone were to unlawfully enter your property, the financial repercussions could be catastrophic.
This is where Medeco lock cylinders come into the picture. Built with a priority on security, Medeco's lock cylinders and keys are restricted and protected from unauthorized duplication. This ensures that only designated individuals will be allowed to access your property.
Are you interested in learning more about Medeco lock cylinders and keys? If so, you've come to the right place. This commercial locksmith in St. Charles, Illinois is going to discuss everything you'll need to know below.
The Medeco 3
The Medeco 3 is a high-security, heavy-duty lock cylinder that's perfectly equipped for commercial use. Possessing tremendous physical strength and toughness, it withstands the effects of both physical trauma and weathering.
The Medeco 3 makes use of triple-locking technology. This makes it exceedingly difficult to pick, and it ensures a superb level of security. Made from brass, it's resistant to drilling as well as other forms of high-intensity attack.
This cylinder comes with key control. This means that its corresponding keys can only be duplicated with specific authorization. In other words, if an individual is unauthorized to duplicate one of its keys, that individual will not be allowed to make a duplicate.
The Medeco 3's keys can only be duplicated with a specialized machine that only certain commercial locksmiths in St. Charles, Illinois have access to. This machine cuts keys at unique angles, allowing for maximum security.
This cylinder also offers pick and bump protection. It requires you to elevate, align, and rotate the key prior to opening.
Master Keying Capabilities
The Medeco 3 doesn't need to be compatible with just one type of key. It can be master keyed to allow it to be opened by the building's master key.
Note, though, that it must be used in conjunction with one of three Medeco key systems. These key systems include the Medeco BiLevel, the Medeco 3 Mechanical, and the Medeco 3 CLIQ Intelligent.
If you're interested in master keying the Medeco 3 for your business property, do not hesitate to reach out to a commercial locksmith in St. Charles, Illinois.
Can Be Used with Existing Hardware
You should also know that Medeco 3 cylinders can be used in tandem with existing hardware. This enables you to switch to Medeco 3 cylinders quickly and seamlessly without greatly altering the rest of your locksets.
Medeco cylinders come in a variety of types, allowing them to work in alignment with all sorts of hardware. Regardless of the lock hardware that you use on your property, there should be a Medeco 3 cylinder that can accommodate you.
If you're interested in retrofitting Medeco 3 cylinders to your existing hardware, call your local St. Charles commercial locksmith. We'll assess your existing hardware, find a cylinder that fits and install it, ensuring that your locksets are as secure and as functional as possible.
Ready to Install Medeco Locks? Contact the Top-Rated Commercial Locksmith in St. Charles, Illinois.
Are Medeco locks right for your commercial property? if so, and if you're looking to have them installed by the top-rated commercial locksmith in St. Charles, Illinois, Suburban Door Check & Lock Service is the company to call.
Our locksmiths have installed Medeco locks at several commercial properties throughout the St. Charles area. Contact us today at (630) 968-4727 to discuss your needs.