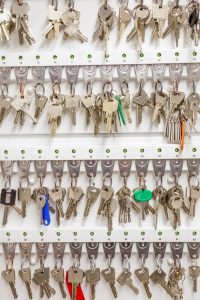 There are many advantages to Electronic Door Lock Systems over traditional mechanical door locks. Some of those advantages include programmable security clearances, automatic door lock/unlock scheduling, and centralized management.
Access controlled doors, used to secure areas, allow only authorized personnel to enter into secure areas. Individual personnel can each have their own security clearances managed through the Access Control System (ACS) during specific scheduled hours. This will negate the need to issue keys and to change the locks when the keys are lost or stolen. When ID badges replace keys, you can have clearances set up, through the ACS, eliminating the security risk of keys being lost or stolen and a copy made and used in an inappropriate manner. An employee that is leaving the company will simply need to have the database changed to reflect the departure, rendering the ID badge useless. The ACS also electronically records every entry, with a date and time stamp, in case access issues arise.
Electronic Door Locks Systems have the ability to use the ACS for many different sequential or concurrent schedules. The entry doors may be unlocked automatically during business hours and locked back at closing time. During holidays, a schedule can be set up and activated on the date to lock the building until the next schedule opening arrives. Schedules also can be setup in depth to allow or deny individuals or groups access to secure areas during a set of pre-determined times. Each secure area can have its own schedule or a group of doors may utilize the same scheduling.
The centralized ACS can have many different features that will benefit the Electronic Door Lock System. Security personnel or IT employees may access the database to make changes from the network or even off campus, using a Virtual Private Network (VPN). Typical changes are creating, editing, or removing employee ID badges and clearances or modifying schedules. Door locks can be unlocked or locked for any number of reasons, like maintenance or emergencies. A complete lock down for a security emergency could be activated in seconds. Depending on the type, the ACS may have the ability to integrate existing building alarm systems, panic buttons, fire alarms, and Close Circuit Television (CCTV) systems. For example, once activated, a fire alarm signals the ACS to open all electronic magnetic locks automatically, for safety. You can enhance security by integrating the CCTV system to track entry to doors with video. Using a centralized server the security department or management can monitor the doors in real time or as needed to ensure student, tenant, or employee safety.
The application for these types of systems vary widely. However, you will commonly find them in use in apartments, hotels, hospitals, businesses, classrooms, and dorms. Any place where the security and safety of the student, parent, employee, patient, guest, or customer are important.
Whether your need is commercial or residential, call the pros at Suburban Door & Check Lock. Founded in 1963, Suburban Lock provides service on all types of locks and door closers. Send us a message, give us a call at 630-968-4727 or come by and visit our 7,500 square foot show room, stocked with a complete inventory of the latest lock and hardware products on the market. Our experienced staff are here to help. We achieve are success by offering 100% guaranteed service. If you do not see the product or service you need, talk to us; we can generally find the product you are looking for.
Suburban Lock has 28 employees and 14 fully stocked service vehicles, and is still a family owned and operated company. We are members of the Associate Locksmiths of America (ALOA) and are certified, bonded and insured – IDPR Locksmith License #191000265 & 191000243. Call us today!