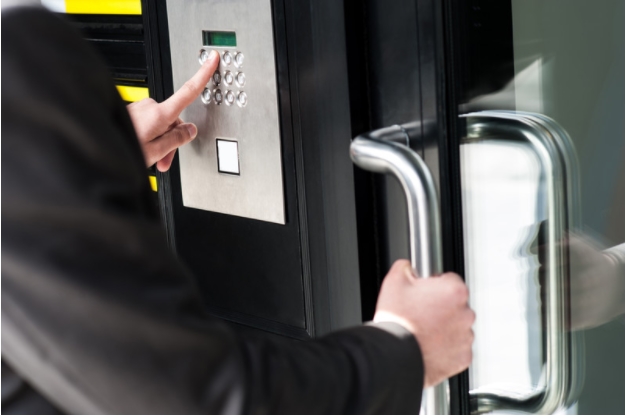 If you're a business-owner looking for the best way to secure your commercial space from burglars, an electronic door lock system could be the right choice. Compared to traditional door locks, electronic door locks have a number of advantages, including the reduction of costs, customization, and a higher level of security.
Here at Suburban Door Check and Lock Service, we're your friendly local Chicagoland locksmiths, and we carry a variety of electronic door lock systems that we help local business-owners install. Here are some reasons why you should consider a high-security electronic door lock system for your business.
Long-Term Cost Reduction and Security
While installing an electronic door locking system is more expensive than traditional locks in the short-term, they'll help you save money over time. Security-wise, the main benefit of these lock systems is that they are nearly impossible to pick, due to the fact that they utilize two levels of biaxial key cutting. Simply put, this system makes it extremely difficult to force open the door by picking the lock. As a result of this, your business won't have to worry about losing money because of theft.
Electronic door locking systems also have the advantage of having drill-resistant housings. This way, a thief cannot simply drill the lock out of its housing. This feature reduces theft and also makes it so that you don't have to pay the expense of replacing damaged locks with new ones to re-secure the property after an attempted break-in.
Rekeyable Locks
If you're a business-owner, you've likely experienced the annoyance of needing to replace a lock because of a stolen key or a key that was lost by an employee. With a high-tech electronic door locking system, these situations will be a thing of the past. The electronic door lock systems that we sell at our locksmith company have the benefit of being rekeyable, which means that they can be securely reset when a key is lost or stolen. Anybody who tries to use the lost or stolen key will be denied access to the building. All types of an electronic door locking system can be reset, including master keys, grand master keys, and great grand master keys.
A Convenient Security Solution
Another advantage of electronic door locking systems is that of convenience. With one of these systems, you won't have to carry a key or worry about losing your key or fidgeting at the door to get it open. Also, you won't need to worry about storing a spare key at your property. If you have people who visit your house, like housekeepers, babysitters, or dog-walkers, you can simply tell them the code to provide access.
Your Local Chicagoland Locksmiths
Here at Suburban Door Check and Lock Service, we have been a family-owned and operated company since our foundation in 1963. We've grown from these humble beginnings into a company with 28 employees and 14 service vehicle providing service all over the Chicagoland area.
If you want a security solution that's safe, convenient, and low-cost for your home or business, consider an electronic door locking system. Contact us to have one of our trusted locksmiths visit you for a consultation.