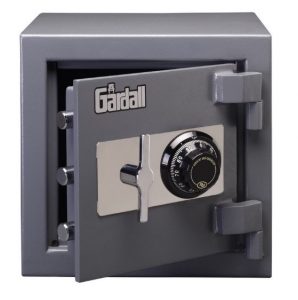 Do you have valuable items in your home? Are you looking for a way to store them safely? If so, you should consider installing a residential safe.
There are quite a few benefits of installing a residential safe in La Grange, Illinois. Are you curious as to what these are? Our locksmiths are going to explain everything you'll need to know below.
What Kinds of Residential Safes Are There?
Residential safes come in many different types. Some of the most common types of residential safes in La Grange include the following:
Wall-mounted Safes
Wall-mounted safes are embedded inside of walls. Their doors stick out from these walls just slightly, ensuring that these safes take up only small amounts of space. Wall-mounted safes are difficult to tear out, which makes them exceedingly difficult to steal. Available with a variety of features, there's sure to be one that suits your needs.
Floor Safes
Floor safes are somewhat like wall-mounted safes. The difference, however, is that they're buried underground as opposed to in the wall. Like wall-mounted safes, floor safes are very difficult to steal.
Gun Safes
Gun safes are specifically designed to store guns and gun accessories. Equipped with specialized racks, they're built to accommodate guns of all kinds and sizes. For more information on gun safes, you can contact your local residential safe company in La Grange, Illinois.
Fire Safes
Fire safes are built to withstand fire. They're not impenetrable to fire, but they are designed to protect their contents for a certain time in the event of a house fire. Fire safes are built with all sorts of features, and they are available in a wide variety of sizes.
Standalone Safes
The last type of safes we're going to discuss are standalone safes. These are simple safes that aren't mounted or buried. They can be moved around to different locations, but they're generally heavy enough to make transport difficult. You can find standalone safes with several different features.
What Are Residential Safes in La Grange Typically Used for?
Residential safes in La Grange are typically used to store a person's most valuable possessions, or possessions that could potentially be dangerous to children and pets. These include (but aren't limited to) the following:
Cash
Do you like to keep cash in your home? If so, you'll want to keep it in the safest place possible. After all, if you were to lose it, of if it got destroyed, you wouldn't be able to replace it. What's the best place to store your cash? A residential safe.
Weapons
Not only are weapons sought after by thieves, but they're also potentially dangerous to children and pets. As such, it's best to keep them locked away when they're not being used. What should you lock weapons away in? A residential gun safe is the answer.
Medications
Maybe your doctor has prescribed you a potent medication? If so, and if you also have children or animals in your home, it would be wise to store that medication inside a residential safe. As always, your local La Grange home safe company will be happy to review your options.
Are You Ready to Install a Residential Safe in La Grange, Illinois?
Are you ready to install a residential safe in La Grange, Illinois? If so, we here at Suburban Door Check & Lock Service can get the job done right. We offer a wide variety of safes to choose from, and we get out safes from only the best manufacturers in the industry. Regardless of your residential safe needs, our locksmiths can help. Contact us today to discuss your options.