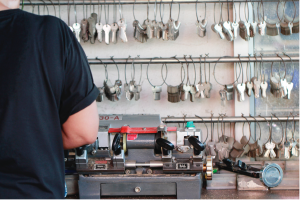 As a homeowner, you rely on your locks to secure your home. Unfortunately, though, while locks are generally very reliable, they are far from perfect. They will eventually become impaired, and they will require the services of a residential locksmith.
Are you wondering whether you're in need of residential locksmith services in Willowbrook, Illinois? Here are five signs that you are:
1. You Locks Need to Be Replaced
Maybe an intruder recently broke into your home through a locked door? Perhaps your locks look old and deteriorated? In any case, if you need a lock replacement, we're the team to call.
There's no one better to handle this task than a residential locksmith. A residential locksmith will ensure that your locks are installed in a secure and optimal manner. If necessary, he or she can even help you pick out your new locks.
Sure, you could attempt to install a new lock on your own, but you might find that the process is actually quite complex. Not to mention, you might not install the lock in the correct manner, leading to security issues down the road.
2. Your Locks Aren't Working Correctly
Perhaps your lock turns roughly every time you insert your key? Maybe the dead bolt is jamming into the side of the adjoining door? In any case, if your lock isn't working correctly, you should contact your local locksmith.
Regardless of what the problem might be, a residential locksmith can assess it and make any necessary repairs. If need be, he or she can even install a new lock for you on the spot.
3. You Just Moved into a New Home
Have you recently moved into a new home? If so, it's important to be aware that your locks might not be as secure as they seem. If there were people living in the home prior to you, any one of them could have a corresponding key.
For this reason, once you move into a new home, it's recommended that you change its locks. This is the only surefire way to ensure your home's security. A residential locksmith can help you with the task.
4. You Need Help Making a Lock-related Decision
There are all kinds of locks on the market today — from cylindrical locks, to electronic keypad locks, to mortise locks, and more. With all of these options available to you, it can be difficult to know which ones are ideal for which situations.
If you ever need assistance in choosing between different types of locks, all you have to do is reach out to your local residential locksmith. He or she can give you all the information you need to make the right choice.
5. You're Locked Out of Your Home
One last reason to call a residential locksmith is that you've locked yourself out of your home. If this happens, a residential locksmith can disengage your lock, allowing you to get back into your home without breaking a window or causing other types of damage.
All you have to do is make the call, and an emergency locksmith will arrive as soon as possible.
Need Residential Locksmith Company in Willowbrook, Illinois?
Have your locks failed you? Are you in need of a residential locksmith company in Willowbrook, Illinois? If so, look no further than the professionals at Suburban Door Check & Lock Service.
We are well-versed in the installation, maintenance, and repair of all types of locks. Regardless of your lock needs, our team of dedicated residential locksmiths would be happy to assist you.
Contact us today to learn more about our services!