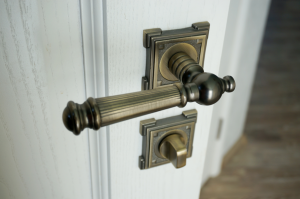 Maybe you're building a new property? Perhaps you're making updates to your existing property? Whatever the case may be, if you're reading this article, you're probably looking to install new locks. Now, all that's left to do is to choose the right style.
Unfortunately, however, this isn't always as simple as it sounds. That's why you're here: you're looking for further information. Fortunately, we have all the information you'll need to know.
Below, we're going to review the different styles of locks that are available to you, helping you to find the right ones for your Northlake, Illinois home.
Cylindrical Locks
If you're looking for a lock that's aesthetically classic and functionally reliable, you should consider cylindrical locks. The cylindrical lock is manually engaged and disengaged in a circular manner. Just twist the knob to the left or to the right, and you'll be able to lock and unlock it.
Cylindrical locks are keyed locks. As such, in order for a person to engage and disengage them from the outside, he or she must have an appropriate key on-hand. This typically doesn't pose much of a problem, as most individuals carry their keys around with them anyway.
It's important to note that cylindrical locks are available in a variety of styles. Regardless of your aesthetic preferences, there should be one that accommodates you. GIve your local residential locksmith a call and see what's available out there.
Electronic Keypad Locks
Another option to consider is electronic keypad locks. These electrically powered locks are disengaged by entering a simple passcode. If you know one of the lock's designated passcodes, you can enter; if you don't know one of the lock's designated passcodes, your access will be denied. It's as simple as that.
Now, you might be wondering what happens with these locks in the event of a power outage? Will a power outage prevent you from getting into your home? Simply put — no, it will not. These locks have battery backups that kick into gear as soon as they stop receiving electricity. As such, they're always functional.
Plus, many electronic keypad locks come with keyholes as well. Therefore, should they ever shut off entirely, you'll still be able to access your home with the use of a physical key.
Like cylindrical locks, electronic keypad locks are available in a number of styles. To see your available options, make a call to a residential locksmith.
Deadbolts
If you really want to increase the security of your property, you should consider installing deadbolt locks in addition to standard locks. Deadbolts are particularly difficult for intruders to disengage, as they're both exceedingly strong and complex to pick.
In most cases, deadbolts are installed on exterior doors alone. After all, you don't typically need to worry about someone breaking into a room on the inside of your house. That said, they can be installed on any door.
In any case, if security is a major concern, a deadbolt lock could be the right option for you. It will add a second, stronger line of defense, one which is almost impossible for intruders to get through.
Make Use of Residential Locksmith Services in Northlake, Illinois
Have you made your choice? Looking to make use of residential locksmith services in Northlake? If so, the locksmiths with Suburban Door Check & Lock Service can help you.
We've installed locks on a number of properties throughout the Northlake area. Our team of dedicated locksmiths would be more than happy to serve you.
Contact us today to schedule an appointment!