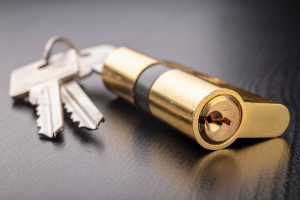 Generally speaking, locks are exceedingly reliable. That said, they are far from perfect. Moments will arise where your locks fail in some form or another. When these moments occur, you might very well need the assistance of a Carol Stream emergency locksmith.
Are you curious as to what an emergency locksmith can do for you? Then you're in the right place. We're going to discuss this in detail below.
When You've Locked Yourself Out of Your House
Have you locked yourself out of your home or apartment? If so, it's recommended that you call an emergency locksmith. Equipped with all of the necessary tools and knowledge, an emergency locksmith can come directly to your home and disengage your lock within a matter of minutes.
The alternative that people sometimes try is to break into your house through a window. That might work, but it could also result in the destruction of your property. Sure, you'll have to pay a small service fee to your locksmith, but it won't be anywhere near as much as you would have to pay to have a new window installed.
When You've Moved into a New Home
One of the first things you should do upon moving into a new home is to change its locks. This is the case whether the home was just recently built, or whether it was previously lived in. You never know — anyone that had access to the home prior to you (i.e. construction workers, previous residents, etc.) could have a key that corresponds with your locks. When it comes to the safety of your home and your family, it's better to be safe than sorry.
The only certain way to ensure that no one disengages your locks without your knowledge is to replace them entirely. An emergency locksmith can assist you the very first day you move into your new home, ensuring that it's as secure as possible from the get-go.
When Your Home Has Been Broken Into
Did you experience a break-in recently? If so, it's recommended that you have your locks replaced as soon as possible. Simply put, if someone broke into your home through a locked door once, he or she could just as easily do it again.
There's one simple way to help prevent another break-in from occurring. That is to have your home's locks replaced. An emergency locksmith can come to your home whenever you're available, day or night, and make the replacement for you.
When Your Key is Broken
Sometimes, after years of consistent use, a key can break off inside your lock as you go to turn it. Have you broken your only compatible key? Never fear! Using either your lock or your key itself, an emergency locksmith can make a new one for you in no time.
Sure, you could also get a new key made at a big box store, but many times, those keys turn out to be ill-fitting and difficult to turn. A licensed locksmith will get it right, allowing for ultimate functionality immediately.
Are You In Need of a Carol Stream Emergency Locksmith?
Are you dealing with a lock emergency? Are you in need of an emergency locksmith in the Carol Stream area? If so, Suburban Door Check & Lock Service is the company to call.
Our locksmiths are available whenever you need us, and with our fully stocked service vehicles, we're able to facilitate a range of lock-related tasks. Whether you need a lock installation, maintenance, or repair, we can help you.
Contact us today to discuss your needs!