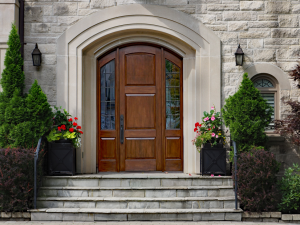 While locks will last for decades regardless of the attention that is shown to them, they will last even longer if treated with proper maintenance measures. For this reason, it's important to perform maintenance on your Clarendon Hills locks on a regular basis.
The question you might have is: what's included in proper lock maintenance? We're going to answer that question below, providing details for each step.
Prioritize Lubrication
One of the biggest keys to lock maintenance is lubrication. Locks experience a great deal of friction over time. If they're not properly lubricated, they will almost certainly deteriorate prematurely.
In most cases, a yearly application of lubrication will get the job done. Simply spray the lubricant into the keyhole and turn the key back and forth a few times. This should suffice in covering the entirety of the lock.
Wondering what type of lubricant to use? Dry, Teflon, and graphite lubricants are considered to be the best.
Make Sure That You Have Additional Keys On-Hand
Getting locked out of your house is a dreadful experience, to say the least. Unfortunately, one of the primary causes of lockouts is a lack of spare keys. Individuals lock their primary keys in their homes and have no copies to turn to.
Don't be one of these people. Make sure that you have spare keys made and make sure that they're placed so that you can access them easily. You might even consider storing one in a lockbox on your door knob.
Assess Door Alignment
Door locks do not exist in a vacuum. Their quality is directly correlated with the quality of their corresponding doors. If a lock's corresponding door is misaligned, the lock will fail to function properly, and will experience substantial amounts of wear and tear.
For this reason, it's recommended that you assess your doors' alignment every 6 months or so. If a door seems to be dipping or sagging, it will need to be realigned.
Inspect the Strike Plates
As you might know, door strike plates are secured with screws. Unfortunately, over time, these screws can become undone. The more a screw becomes undone on a strike plate, the less effective the strike plate will be, and the more wear and tear it will cause to its corresponding lock.
For this reason, it is wise to assess your strike plates often. Check to make sure the screws pressed down and ensure that your strike plates are snugly secured.
Clean Them Up
The exteriors of locks experience a great deal of contact. Whether it be from hands touching them or from rain pouring down onto them, they tend to get fairly dirty over time. Fortunately, there is a way to increase the aesthetic lifespan of locks: you can clean them!
In most cases, locks will be dealing with oxidation and corrosion. These appear as a result of weather exposure. How do you remove oxidation and corrosion? Sandpaper and rust remover will typically get the job done.
Sand the lock, apply the rust remover solution, and wipe it off with a soapy rag. Following these steps should make the lock look like new again.
Trust You Clarendon Hills Area Locksmith with Your Routine and Emergency Locksmith Needs
Experiencing door and lock challenges? Looking to make use of a locksmith in Clarendon Hills, Illinois? If so, the locksmiths with Suburban Door Check and Lock Service can help.
Our team is well-versed in all locksmith practices, having installed and performed maintenance on a wide variety of locks over the years.
Contact us now to schedule an appointment!