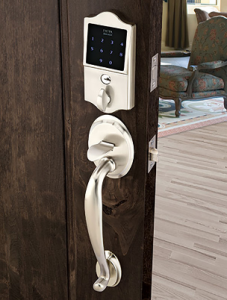 Thinking about installing new residential locks in La Grange? If so, you would be wise to choose a reputable brand. Failure to do so could have long-term repercussions, both in terms of the security of your home and in terms of your wallet.
Looking for some reputable lock brands? If so, you're in the right place. We're going to review three of them below.
Emtek
Emtek was founded in 1981. Ever since, it has been at the forefront of lock design and style. Offering a number of styles and functionalities, the company makes everything from electronic locks, to cylindrical locks, to mortise locks, and much more.
Their locks come in a variety of finishes. These include but aren't limited to polished brass, oil rubbed bronze, polished nickel, satin chrome, and satin brass. Each of these finishes can be found in Tuscany style, contemporary style, American Classic style, rustic style, and many more.
If you're looking for high-aesthetic, high-security locks that will thrive through decades of use, you needn't look any further than Emtek.
Medeco
Established over 50 years ago, Medeco is located in Salem, Virginia. Always on the cutting edge of lock innovation, the company manufactures key control cylinders with different levels of pick and drill resistance.
Some of the specific products offered by Medeco include bank security locks, vending equipment locks, cylinders, deadbolts, and padlocks, to name just a few.
When you install Medeco locks, you'll not only reap top-notch security — you'll also improve the aesthetic of your home at large.
Schlage
Next up is Schlage, a company that was established in San Francisco in 1920. Now located in Colorado Springs, it serves both commercial and residential uses.
Schlage's selection of locks is staggering. Not only does the company manufacture traditional locks, cylinders, and deadbolts, but it also manufactures electronic locks, some of which are of the "smart lock" variety.
Offering many styles to choose from, Schlage is one of those can't-go-wrong brands that always delivers value with its products.
What Kinds of Residential Locks are Available?
Now, you might be wondering: which residential locks are available to you? There are a number of different kinds, each of which comes with its own set of benefits. The most common of these include:
Cylindrical Locks
Cylindrical locks are traditional locks. They're opened with the use of physical keys and provide top-notch security. Available in a number of styles and materials, they can have a large impact on a home's aesthetic. Their one possible downside is that they don't allow for automation.
Electronic Keypad Locks
Electronic keypad locks can be opened without the use of a key. Instead, they make use of passcodes. Many people find them convenient, as they allow anyone with a corresponding passcode to gain access. The downside to electronic keypad locks? They're relatively expensive, and are less secure than a lock with a high security cylinder.
Deadbolts
If you truly care about the protection and security of your home, you should consider installing a deadbolt. A deadbolt will reinforce your primary lock, ensuring that your home can't be accessed by unwanted individuals. Available in a variety of styles, there's sure to be one that fits your preferences.
In Need of Residential Locks and a Locksmith in Brookfield?
And there you have it, three of the best residential lock brands on the market today. Are you in need of a residential locksmith Brookfield? If so, Suburban Door Check & Lock Service can help.
We supply all of the lock brands reviewed above, providing a range of styles and functionalities. Regardless of your preferences, our locksmiths can accommodate you.
Contact us now to discuss your needs!