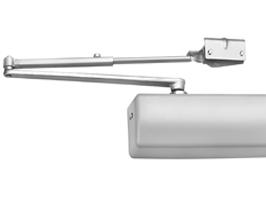 DC 6000

The DC 6000 series is the perfect closer for high-use openings or openings that must

meet ADA requirements such as schools, office buildings, health care facilities, and retail

complexes. The series also meets UL and UL10C positive pressure requirements for fire

door openings. Highlights include:

Heavy-duty forged arm
Spring-adjust
Captured valves
Self-drilling screws
Quik-Install bracket
Cast iron body
Retrofit plates
Powder painted arms

DC 8000

The DC8000 highlights include:

Heavy-duty forged arm
Multi-sized (1 through 6)
Captured valves
Self-drilling screws
Double heat-treated steel pinion
Universal Quik-Install bracket
Optional Tri-packed arm assembly
Cast-iron closer body
Retrofit plates allow direct retrofit of competitor's product

DC 3000

The mid-priced, cost effective choice for high-traffic situations. The DC3000 Series Door

Closers fulfill security and life safety requirements by ensuring reliable latching for

access control and fire code compliance, along with ease of operation and precise

adjustability for barrier-free code compliance. Ideal for virtually all door openings and

draft conditions in both new construction and renovation projects.

DC 5000

The DC5000 series is a cam action door closer for slide arm and track applications. The

cam action design is ideal, as it provides much greater efficiency than a rack and pinion

door closer for slide track applications. The cam action provides much lower opening

resistance while delivering optimum closing force and control. The door closers wide

range of adjustable closing power permits use in the most demanding situations.