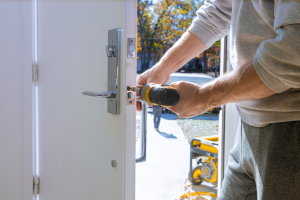 Are you worried about the security of your home? Do you want to protect your family and your valuable possessions? If so, it's time to consider upgrading your locks. With so many different types of locks available, it can be overwhelming to choose the right one for your home. That's where the professionals can help.
Below, this residential locksmith in Westchester, Illinois is going to explore the different types of locks that are available, the factors to consider when choosing your locks, the benefits of hiring a residential locksmith, and more.
An Introduction to Residential Locksmiths
If you're not familiar with the term, a locksmith is a professional who specializes in locks and keys. A residential locksmith specifically focuses on locks and security for homes. In the Westchester area, there are many locksmiths to choose from — however, not all of them specialize in residential services.
It's important to choose a locksmith who has experience and expertise in residential security. A reputable residential locksmith in Westchester, Illinois will be licensed and insured, and they will have the necessary tools and knowledge to install, repair, or replace the locks in your home.
Different Types of Locks for Homes
When it comes to choosing new locks for your home, there are several different types to consider. Some of the most common types of locks for residential properties include:
Deadbolts: A deadbolt is a heavy-duty lock that requires a key or thumb turn to lock and unlock. This type of lock is typically installed on exterior doors and provides a high level of security.
Smart Locks: A smart lock is a keyless entry system that can be controlled remotely through a smartphone app. This type of lock is becoming increasingly popular for its convenience and added security features.
Knob Locks: A knob lock is a type of lock that is installed on the doorknob of a door. This type of lock is not as secure as a deadbolt, and it's often used in conjunction with other types of locks.
Lever Handle Locks: A lever handle lock is somewhat like a knob lock, but instead of a knob, it has a lever handle that makes it easier to open and close the door. This type of lock is commonly used in commercial properties, but it can also be used in residential properties.
Factors to Consider When Choosing New Locks for Your Home
When choosing new locks for your home, there are several factors to consider. These include the following:
Level of Security: The level of security you need will depend on several factors, including the crime rate in your area, the value of your possessions, and your personal preferences.
Budget: Different types of locks come with different price tags. It's important to choose a lock that fits within your budget while still providing the level of security you need.
Compatibility: Not all locks will be compatible with your doors and frames. Your residential locksmith in Westchester, Illinois can help you find an option that works with your existing hardware.
Aesthetic: While security should be your top priority, you also want your locks to look good and complement the overall aesthetic of your home.
Looking for a Residential Locksmith in Westchester, Illinois?
Are you ready to improve your homes security by upgrading your locks? If so, Suburban Door Check & Lock Services is the company to call. As the top-rated residential locksmiths in Westchester, Illinois, we have the expertise to recommend and install the best locks for your home. Contact us today at (630) 968-4727 to schedule a free consultation.