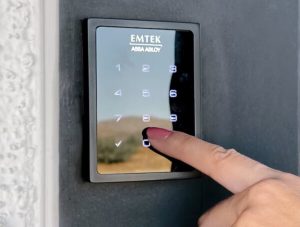 As a business owner, you know how important it is to keep your company secure. One of the best ways to do this is by installing electronic locks on your entry doors. Not only are they more secure than traditional locks, but they also offer a range of other benefits as well.
Are you wondering whether electronic locks are right for your business? To help you decide, this commercial locksmith in Lisle, Illinois is going to discuss some of the key things you should know about them below.
The Benefits of Electronic Locks Over Traditional Locks
Security is a top priority for any business, and electronic locks offer some of the highest-security options available. Electronic locks use advanced technology to ensure that only authorized individuals can access your business. They are much more difficult to pick or bypass than traditional locks, which means that your business will be much less likely to be targeted by thieves or burglars.
Another benefit of electronic locks is that your commercial locksmith in Lisle, Illinois can customize them to meet the specific needs of your business. For example, you can set up different access levels for different employees so that only those who need access to certain areas of your business can get in.
Electronic locks are also much more convenient than traditional locks. With electronic locks, you don't have to worry about carrying a key around with you or replacing lost keys. Instead, you can use a code or a key card to access your business.
Types of Electronic Locks Available
There are several different types of electronic locks available, each with its own unique features and benefits. Some of the most common types of electronic locks include:
Keypad locks
Card access locks
Biometric locks
Keypad locks require a code to be entered to gain access. They are typically recommended for businesses with a small number of employees, or for areas that require limited access.
Card access locks use a key card to gain access. They are ideal for businesses with a larger number of employees or for areas that require more secure access.
Biometric locks use fingerprint or facial recognition technology to grant access. They are the most secure type of electronic lock, but they are also the most expensive.
Factors to Consider When Choosing an Electronic Lock
When choosing an electronic lock for your business, there are several factors to consider. One of the most important factors is the level of security that you require. If you have a high-security business, your commercial locksmith in Lisle, Illinois may recommend a biometric lock. If security is less of a concern, a keypad lock may be sufficient.
Another factor to consider is the number of employees that you have. If you have a high number of employees, you may want to consider a card access lock, as it is easier to manage than a keypad lock.
Finally, you should consider your budget when choosing an electronic lock. Biometric locks are typically the most expensive option, while keypad locks are the most affordable.
Looking for a Commercial Locksmith in Lisle, Illinois?
Are you interested in installing electronic locks on your commercial property? If so, and if you're looking to have them installed by the best commercial locksmith in Lisle, Illinois, you've come to the right place — our team at Suburban Door Check & Lock Services is here to assist you.
We also offer a wide range of other locksmith services, including lock repair, key duplication, and emergency lockout services. Contact us today at (630) 968-4727 to learn how we can help keep your business secure.