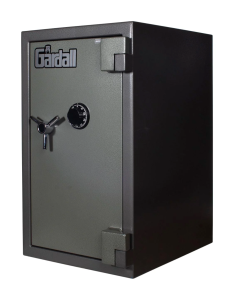 Are you looking for an effective way to store your most valued items? If so, you've most likely thought about having a residential safe installed.
Before you have a new safe installed, you'll want to carefully review its features and characteristics to make sure you get the right safe for your needs. That's where we can help. This residential safe installer in River Forest, Illinois is going to review some of the key things to look for below.
Make Sure It Weighs Enough
One of the most important things to consider when choosing a residential safe is its weight. If your safe isn't heavy enough, someone could easily pick it up and walk off with it. That would, of course, entirely defeat its purpose.
Most residential safe installers in River Forest, Illinois recommend looking for safes that weigh at least 250 pounds. 250 pounds is difficult for most people to lift.
It's important to note here that most mid-level safes weigh between 500 and 1,000 pounds. Therefore, assuming you purchase from a reputable brand, you shouldn't have to worry about it being too light.
Assess Its Fire-resistance Capabilities
Another thing to consider when choosing a residential safe is its fire-resistance capabilities. Some safes are better equipped to protect their contents from fire than others. For instance, while some safes will protect their contents for up to an hour, others will protect their contents for up to two hours.
You can determine a safe's fire protection capabilities by reading its label. This should include an independently tested fire rating. Keep in mind, the better a safe's fire protection, the more money it's going to cost — but that extra cost could pay off down the road.
Consider Different Lock Types
Residential safes come with many different types of locks. There are combination locks, keyed locks, biometric locks, and more. None is objectively better than the others. However, you might prefer one style over another.
Your residential safe installer in River Forest, Illinois can sit down and help you consider the benefits of each option. For instance, because a combination lock requires no key, it's at no risk of a lost key. On the other hand, combination locks do require you to remember a code.
Biometric locks are, perhaps, the most sophisticated of the bunch. However, they're also typically more expensive, which could be a drawback for some.
Truly think about how the lock type could affect you, and then choose accordingly.
Learn About the Different Kinds of Safes
There are many different types of residential safes that are available today. There are wall safes, floor safes, standalone safes, and more. Each of these has its own set of benefits and drawbacks, which could affect your choice.
You should also be aware that there are gun safes available. These are specifically designed to store guns and gun accessories, and they are the ideal choice for gun owners. Gun safes are equipped with racks, storage compartments and the like, making for the best gun-centered storage experience possible.
If you need help choosing a safe type, your residential safe installer in River Forest, Illinois will be happy to work with you. They can walk you through the different options and help you find one that best suits your needs.
Looking for a Residential Safe Installer in River Forest, Illinois?
Are you ready to have a safe installed in your home? Looking for the most trusted residential safe installer in River Forest, Illinois? If so, Suburban Door Check & Lock Services is the company to call.
Over the years, we have helped countless homeowners throughout the River Forest area find the right safes for their homes. Regardless of the type of safe you're looking for, we can make sure it's installed correctly. Contact us today at (630) 968-4727 to learn more.