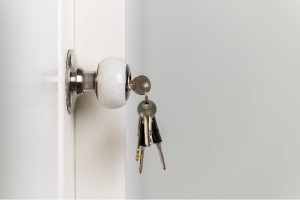 When a problem with your lock suddenly presents itself, there's one type of professional who can solve it effectively. That person is a locksmith, and in the case of home locks, it's a residential locksmith, specifically.
Are you wondering whether your locks currently need professional attention? To help you decide, this residential locksmith in Addison, Illinois is going to review the top five signs below.
1. Your Locks Are Hard to Turn
One common sign that it's time to call a residential locksmith is that your locks are hard to turn. Locks are supposed to turn with little to no resistance. If you'll have to exert substantial amounts of energy to open your lock, there's undoubtedly something wrong with it.
It might just need a bit of lubrication. On the other hand, it might benefit from a repair. In rare cases, a full lock replacement will be required.
Regardless, your residential locksmith in Addison, Illinois is the person to call. They'll make all the necessary repairs, ensuring that your locks work like normal once again.
2. Your Locks Are Loose
Another sign that you need to call a residential locksmith is that your locks are loose. In other words, they jangle against your doors instead of sitting flush against them. This occurs over time due to consistent use. It's entirely normal.
That said, a loose lock is an insecure one, which is why it's important to have it fixed. You might be able to do this yourself. But if you struggle, you can always reach out to your residential locksmith in Addison, Illinois. They will have all the tools needed to secure your locks adequately.
3. Your Locks Look Bad
Your locks don't need to be dysfunctional to trigger a lock replacement. Looking bad is reason enough to make the change. After all, your locks comprise a portion of your home's exterior aesthetic. If they look bad, they'll cause your home to look bad as well.
Fortunately, there are plenty of locks on the market with which you can replace your existing locks. These run the gamut from cylindrical locks to mortise locks to electronic keypad locks and more. These locks come in a variety of styles, one of which is sure to go great with the overall look of your home.
You can always get in contact with your local locksmith. They'll help you find a lock that's right for your home, and they can install it for you as well.
4. You've Locked Yourself Outside of Your Home
We've all done it at least once: locking ourselves outside of our homes. In these situations, you could do something hasty and, say, break one of your windows. However, that will cause costly damage, and could even result in serious injury.
Instead, it's better to contact a reputable residential locksmith in Addison, Illinois. They will have all the tools needed to get you back into your home through your locks. They won't cause any damage, and they can help you move on with your life in the quickest and most efficient manner possible.
5. You Haven't Maintained Your Locks Recently
Locks require maintenance. If they don't get it, they'll both look bad and perform miserably. In many cases, they'll even lose a few years off their lifespan.
It's recommended that you clean your locks, lubricate your locks, and realign your locks on a regular basis. Don't think you can do this on your own? Your local residential locksmith can assist you.
Looking for a Residential Locksmith in Addison, Illinois?
Are you noticing any of the issues mentioned above? Looking to have it fixed by the top-rated residential locksmith in Addison, Illinois? If so, look no further than the team at Suburban Door Check & Lock Services.
Contact us today at (630) 968-4727 to learn how we can help.