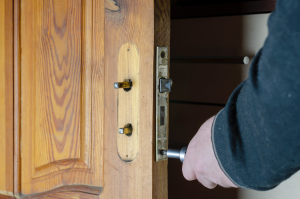 Looking to have your locks repaired? Perhaps you're looking to install new locks? Regardless, it's important to take your time when researching locksmiths in your area — after all, when it comes to your home, you'll want nothing but the best.
When searching for a locksmith, there are a few key factors you should look at. We are going to review the four most important things to consider when searching for a residential locksmith in Oak Park, Illinois.
1. Make Sure They Have Real-World Experience
One of the most important characteristics to look out for is real-world experience. In other words, you'll want to make sure that your chosen locksmith has done lock work for real customers. You don't want to choose someone who's still in the learning process.
Real-world experience is important, as it gives a locksmith a chance to troubleshoot problems and fine-tune common mistakes. Without this experience, a locksmith will essentially be shooting in the dark.
We recommend choosing a residential locksmith in Oak Park, Illinois with a minimum of two years of experience.
2. Check Out Their Reputation
Just as important as real-world experience is a positive reputation. If a locksmith has maintained a positive reputation over a decent time-period (again, at least two years), there's a great chance that they'll provide you with quality work.
Wondering how to determine whether a locksmith has a good reputation? In general, the best option is to read review websites like Google, Facebook, and Yelp.
These websites provide a wealth of reviews from past customers — not to mention consensus star ratings. If a locksmith has over a 4-star rating and has generally positive reviews (a few outliers generally isn't a cause for concern), they're probably a safe choice.
3. See Proof of Insurance
Before hiring a residential locksmith in Oak Park, Illinois, it's important that you ask to see proof of insurance. Insurance coverage is important for a locksmith, as it protects not only the locksmith themselves from having to pay huge financial damages but the locksmith's clients as well.
For instance, let's say that a locksmith were to accidentally damage one of your doorways while replacing a lock. If they didn't have insurance, they might try to skate off without paying for the damages. If they're insured, however, they can simply file a claim and receive the money to cover the damages. This makes insured locksmiths much more likely to pay for the damage that they caused.
When choosing a locksmith, you should ask to see proof of two types of insurance: general liability insurance and workers' compensation insurance. The former covers damages to your property; the latter covers injuries that occur to the locksmith's employees on your property.
4. Ask for Cost Estimates
Finally, you should ask for cost estimates. If you don't ask for estimates, you could end up with a shockingly high bill. After all, not all locksmiths charge the same prices. You'll want to be sure that your budget can handle the cost.
To obtain estimates, you can simply call your prospective locksmiths and tell them what you need to have done. Then, ask for a quote on the work that was requested. A reputable residential locksmith in Oak Park, Illinois will provide you with a quote without resistance.
When comparing quotes against one another, don't fall into the trap of believing the most expensive is the best option. Conversely, don't automatically believe that the lowest price is the best deal. Weigh each prospect's other characteristics to make a final choice.
Looking for the Top-Rated Residential Locksmith in Oak Park, Illinois?
Are you currently looking for a residential locksmith in Oak Park, Illinois? If so, look no further — our professionals at Suburban Door Check & Lock Services will be happy to assist you.
Whether you are looking to have new locks installed or your existing locks repaired, we can get the job done right. Contact us today at (630) 968-4727 to schedule an appointment.