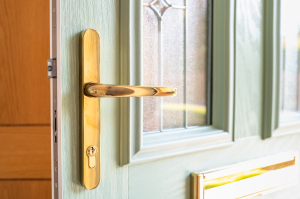 Locks don't last forever. In fact, in most cases, they tend to wear down after about a decade of use. When they reach the point where a repair will no longer suffice, a replacement will need to be made.
Are you wondering whether you need to start thinking about replacing your locks? To help you decide, this lock replacement contractor in Bedford Park, Illinois is going to discuss some of the signs you should look out for below.
Is It Difficult to Turn Your Lock?
One of the most obvious signs that it's time for new locks is that your locks are difficult to turn. Whether it's the lock itself or the doorknob or lever, there's an indication that severe damage exists.
In many cases, this occurs due to wear and tear within the lock. Years of continuous friction result in rough and resistant operation. In these cases, there's little that can be done to counteract the problem.
In other cases, this occurs because the door has become misaligned. In other words, the lock is no longer smoothly sliding into its corresponding latch. In these cases, you can repair the problem simply by realigning the door.
In the rest of the cases, there's just a slight lubrication problem. By adding lubrication to the inside of the lock, you can prolong its use by years.
In any of these cases, however, it's best to get in touch with a professional lock replacement contractor in Bedford Park, Illinois. They will have all the tools and resources necessary to facilitate the proper fix.
Has Someone Recently Broken Through One of Your Locks?
Did someone recently break into your home? Did they do so through a locked door? If so, the lock on that door needs to be replaced.
The logic here is straightforward: if they did it once, they could just as easily do it again. Plus, other people could do it, as there's clearly something wrong with the lock that's causing it to fail at its job.
Until that lock has been replaced, your home will be vulnerable. Fortunately, there is a large assortment of new locks to choose from. Your lock replacement contractor in Bedford Park, Illinois will be happy to help you find an appropriate replacement.
Did You Just Move into a New Home?
Another sign that you need to change your locks is that you just moved into a new home. It doesn't matter whether it was owned by someone else before you or was built from scratch. It doesn't matter if the previous owner changed the locks or if they were added during construction.
These locks were handled by someone prior to you, and therefore, your home could be at risk. For instance, the previous owner could have a key. The friend of the previous owner could have a key. A construction worker could have a key. An ex-girlfriend of a construction worker could have a key. You get the point.
The best way to avoid risk is to have your locks replaced or re-keyed by your lock replacement contractor in Bedford Park, Illinois.
Do Your Locks Look Old?
One last sign that you need to replace your locks is that they look old. Whether it's because they're weathered or because they no longer fit in aesthetically, a replacement is justified.
There are all sorts of top-notch locks on the market today, including a variety of styles. You can always speak with your local locksmith to find a lock that suits your aesthetic preferences.
Looking for a Lock Replacement Contractor in Bedford Park, Illinois?
Have your home's locks reached the end of their lifespan? If so, and if you're ready to make a replacement, our team at Suburban Door Check & Lock Services is here to help.
As the top-rated lock replacement contractors in Bedford Park, Illinois, we have replaced countless locks throughout the Bedford Park area over the years. Regardless of your lock replacement needs, we have you covered. Contact us today at (630) 968-4727 to request a free estimate.