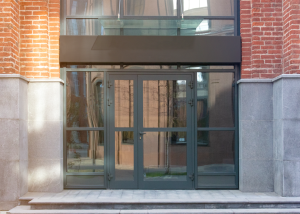 If you are a business owner, the security of your commercial property is something you don't want to overlook. After all, the last thing you want is for someone to break into your property and steal equipment or damage your property. This is just one of the many reasons why it's so important to have reliable, high-quality locks.
Are you ready to start the new year off by upgrading your locks? Wondering what kinds of commercial locks are available to you? Below, this commercial locksmith in Winfield, Illinois is going to review some of the most popular options you may want to consider.
Cylindrical Locks
If you want something simple, straightforward, secure, and reliable, you may want to consider installing cylindrical locks. These locks make use of physical keys and are used on doors of all kinds. This includes both interior doors and exterior doors.
Cylindrical locks come with a variety of different handsets. In some cases, these sets include simple knobs. In other cases, they include intricately designed levers. Regardless, they're extremely easy to operate.
One possible downside to cylindrical locks is that they don't offer any automation. You can't program them to unlock at a certain time, for example. There's also the issue of needing a key to lock and unlock them. This can be inconvenient for many reasons, especially when individuals lose the keys to various locks.
Nonetheless, these are always solid options. Plus, they are typically more affordable than electronic options.
Electronic Keypad Locks
Next up are electronic keypad locks. These locks make use of keypads as a means of entering designated passcodes. This is beneficial in that it eliminates the need for physical keys. It also allows you to issue different passcodes to different people, making it easy to facilitate accessibility changes over time.
For instance, let's say that someone at your company quits. With electronic keypad locks, you can take away their access by simply invalidating a code. If you had cylindrical locks, you would have to physically take their key away.
Another big upside to electronic keypad locks is that they can be programmed to allow for automation. If you want them to automatically disengage at, say, 7:00 AM, you could program them to do so. This is hugely beneficial in large buildings where many doors need to be unlocked at the same time. If you need help programming your locks, your commercial locksmith in Winfield, Illinois will be happy to get you set up.
Exit Devices
The last locks we're going to discuss are exit devices. These are long, narrow locks that extend in a horizontal manner across their respective doors. They are commonly seen on fire exit doors, though you'll find them on many doors throughout factories, gymnasiums, and other similar types of buildings.
These are beneficial in that they can be disengaged with just a bump of the hip. Therefore, they allow for hands-free exiting and entering. This is what makes them the standard for fire exits.
Exit devices are highly secure, not to mention extremely durable. They're commonly used on exterior doors, though they can be used on interior doors as well. If you need hands-free exiting and entering capabilities, your commercial locksmith in Winfield, Illinois may recommend this option. They're great in factories, warehouses, restaurants, schools, and more.
Looking for a Commercial Locksmith in Winfield, Illinois?
Are you ready to start off 2023 by updating your locks? Looking for the most trusted commercial locksmith in Winfield, Illinois? If so, you've come to the right place — Suburban Door Check & Lock Services is the company to call.
Our team has installed new locks on countless commercial properties throughout the Winfield area. Regardless of your preferences, we can help you find the right option. Contact us today at (630) 968-4727 to get started.