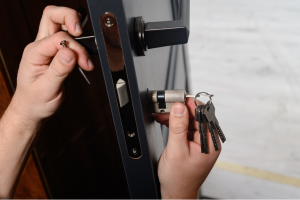 Almost every homeowner is aware that locksmiths exist. However, are you aware of all the ways you can benefit from working with one? Wondering what types of services they provide?
Residential locksmiths provide a wide range of services, all of which will help to keep homes safe and secure. This residential locksmith in Oak Park, Illinois is going to explain below.
By Receiving a Professional-grade Installation
It's not uncommon for homeowners to attempt to install locks on their own. In some cases, this works out well. In other cases, it works out poorly, resulting in less-than-secure locks, locks that don't function properly, and other issues.
That is why, in most cases, the wise choice is to utilize the services of a residential locksmith in Oak Park, Illinois. Experienced residential locksmiths have installed countless locks on countless homes, and they will have all the tools and knowledge needed to do so properly. They'll not only ensure that your locks are installed in the functionally proper manner, but they'll also ensure that they look pleasing to the eye.
Whether it's an electronic keypad lock, a cylindrical lock, a mortise lock, or otherwise, they have you covered. Give your local residential locksmith a call today to get started.
By Receiving a Proper Lock Repair
Maybe a key broke off in your lock? Perhaps your lock is struggling to turn? Perhaps your door is misaligned? Regardless, if you need a lock repair, there's no one better to call than a licensed residential locksmith in Oak Park, Illinois.
Yes, you could attempt to fix your lock on your own. However, without the right tools and knowledge, you risk exacerbating any problem that already exists. You might even cause new problems.
Residential locksmiths have repaired countless locks and have a firm grasp on what it is they're doing. Using specialized tools and knowledge, they'll make sure that your locks are fixed to be as functional and secure as possible.
By Learning About Your Lock Options
There are all sorts of locks on the market these days. Not only are there a variety of types to choose from, but a variety of styles as well. However, unless you're around locks on a regular basis, you probably don't have a full understanding of your many options.
This is where a residential locksmith comes in. Residential locksmiths are around locks on a regular basis, and they can thoroughly inform you of what is available to you.
From cylindrical locks to mortise locks to electronic keypad locks and everything in between, your locksmith will give you a full rundown of the benefits and drawbacks of each. They'll even show you different styles that are available.
By Receiving Proper Lock Maintenance
Some homeowners might clean their locks on occasion. However, do you do anything else to maintain them? For instance, do you lubricate them? Do you ever realign your lock mechanisms to lessen friction and improve functionality?
If not, you should strongly consider scheduling a maintenance tune-up with a residential locksmith in Oak Park, Illinois. They'll provide your locks with proper maintenance, ensuring that they're working as well as possible, lasting for as long as possible, and looking as good as possible.
Looking for the Most Trusted Residential Locksmith in Oak Park, Illinois?
Are you currently experiencing a problem with your locks? Schedule a service with the most trusted residential locksmith in Oak Park, Illinois. Our team at Suburban Door Check & Lock Services is here to help.
We provide all the services discussed above and more. Regardless of your residential lock needs, our friendly and experienced team can get the job done right. Contact us today at (630) 968-4727 to get started.