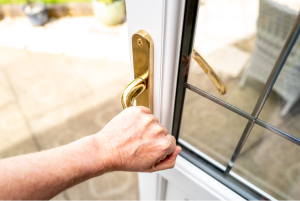 Whether the locks on your home are broken, need to be replaced, or need some routine maintenance, it's best to leave it to a residential locksmith. A locksmith has not only the knowledge needed to service your locks, but the tools and resources as well.
You might be wondering: how to find the right locksmith in your area? Fortunately, we have the answer. Here is how to go about finding the right residential locksmith in Willowbrook, Illinois:
Use a Search Engine
Our first tip is to use a search engine. Once there, type something to the effect of "residential locksmiths in Willowbrook, Illinois". This will bring up a list of locksmiths in the area. Next to each selection, there will also be a star rating along with a link to customer reviews. Use these star ratings and reviews to inform yourself about different locksmiths.
Then, narrow the selections down until you have a pool of three to five of them. Once you have this pool, you'll need to compare the different selections against one another. We'll discuss the comparisons to make below.
Make Sure They Provide the Services That You Require
While locksmiths provide the same services in general, their services are not exactly consistent with one another. For instance, one locksmith might only provide residential services while another only provides commercial services. Or one might provide lockout services while another only provides lock installations, maintenance, and repairs.
Regardless, you'll want to make sure you choose a residential locksmith in Willowbrook, Illinois that provides the services you require. In general, you can find out about a locksmith's services on their website. It will typically be found under a tab called 'Services'.
If there is no such tab on the locksmith's website, you can call them instead. They'll be sure to tell you everything you need to know over the phone.
Ensure Ample Experience
As with choosing any service provider, when choosing a locksmith, you need to be sure that they have ample experience in the field. Experience is important, as it gives a locksmith time to shake off common mistakes. It also gives them a chance to perfect their customer service practices.
You could hire a brand-new locksmith. However, you would be taking a bit of a risk. This is simply because new locksmiths have no reputation for you to gauge.
Therefore, we recommend choosing a locksmith with at least two years of experience. Any locksmith who has maintained a positive reputation over this amount of time likely has what it takes to get the job done.
Get Quotes
Not all residential locksmiths in Willowbrook, Illinois are going to charge the same rates. Truthfully, rates can vary greatly depending on the locksmith you're working with. Therefore, before hiring anybody, you need to be sure to get quotes.
Call the locksmiths on your list and explain the type of lock work you need to have done. Once you iron out the specifics, they'll provide you with a ballpark estimate.
Use these estimates in conjunction with other comparisons to make the best choice possible. Remember: the most expensive doesn't necessarily mean the best. In addition, the cheapest price isn't always the best deal in the long run.
Looking for the Best Residential Locksmith in Willowbrook, Illinois?
Are you looking for a residential locksmith in Willowbrook, Illinois that can be trusted to work on your home's locks? If so, our team at Suburban Door Check & Lock Services is here to help.
We have been serving the Willowbrook area since 1963, and we have worked with countless homeowners over the years. Regardless of the lock service you're looking for, we are the people to call.
Contact us today at (630) 968-4727 to schedule an appointment.