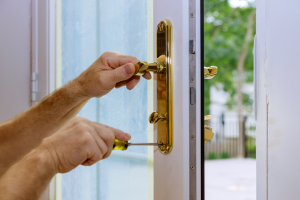 Quality residential locks are designed to operate for years without any issues. However, regardless of how well you maintain your locks over the years, there will eventually come a time for a replacement.
With that in mind, there are several signs you should look out for to determine whether your locks need replaced. Not sure what to look for? Below, this residential locksmith in Addison, Illinois is going to review the top signs that it's time for a lock replacement.
1. An Intruder Recently Broke in Through One of Your Locks
One sign that you need a new lock is that an intruder recently broke into it. If your lock fails one time, it could fail again. Therefore, until it's replaced, your home will be vulnerable.
Fortunately, modern locks are built with the utmost of security. Therefore, by installing a new lock, you can help safeguard your home from future intruders. If you need help finding a high-security option for your home, do not hesitate to contact your local residential locksmith in Addison, Illinois.
2. You Recently Moved In
Another sign that you should have new locks installed on your home is that you recently moved in. What difference does this make? Put simply, the locks that your home came with could very well be accessible to someone else.
For instance, maybe your real estate agent still has a key. Maybe their husband has a key. Maybe a construction worker who helped build the house has a key. It's impossible to know and, because of this, it's best to just replace the locks.
There are all sorts of beautiful and high functioning locks on the market with which to make a replacement. From cylindrical locks to mortise locks to electronic locks and more, a residential locksmith in Addison, Illinois is sure to have an option that suits your home.
3. Your Locks Are Tough to Turn
Another sign that you need new locks is that your locks are hard to turn. This occurs over time as a lock incurs more and more wear and tear. The internal components of the lock struggle to work in harmony with one another, resulting in a resistant and grinding feeling.
In the short-term, you can counteract the problem by lubricating your locks. Note, however, that after some time, lubrication will make very little difference. It's at this point that the lock will need to be replaced completely.
4. It's Aesthetically Deteriorated
As any residential locksmith in Addison, Illinois will tell you, your locks don't necessarily need to be dysfunctional to trigger a replacement. In some cases, aesthetic deterioration alone is reason enough to replace a lock.
Maybe your locks are excessively scratched? Maybe they're marred and worn? Perhaps they just look a little dull? Regardless, the aesthetic deterioration of a lock can drag down the overall aesthetic of the home.
In some cases, a locksmith can work to enhance the look of a worn-down lock. In other cases, however, the only solution is to replace the lock. Fortunately, there are all sorts of lock options out there, and there's sure to be a lock that suits the look of your home.
Looking for the Best Residential Locksmith in Addison, Illinois?
Have your locks run their course? Ready to make a change? If so, you've come to the right place — Suburban Door Check & Lock Services is here to help.
We have a wide variety of locks to choose from, including electronic locks, cylindrical locks, mortise locks, and much more. Regardless of your lock preferences and needs, we can help you find the best option for your property.
Contact us today at (630) 968-4727 to request a free estimate.