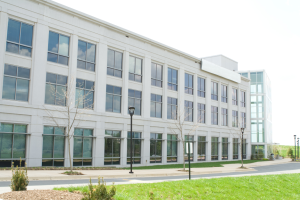 Are you looking to install new locks on your commercial building? Not sure about what's available today? With all the different options, it can be tough to determine what's right for your property. That's where we can help.
Below, this commercial locksmith in Schaumburg, Illinois is going to review some of the most popular and effective types of locks for commercial buildings.
Exit Devices/Crash Bars
The first types of locks that we're going to discuss are exit devices or crash bars. These are long, narrow locks that extend horizontally across their respective doors. They're used on fire exit doors but can also be seen on standard entry and exit doors in factories, restaurants, schools, and more.
These locks are highly secure. In addition, they can be engaged and disengaged with ease. In most cases, all you'll have to do to open them is bump them with your hip. This makes them great in situations where your hands are full.
Heavy duty in nature, these locks can withstand quite a bit of abuse. This makes them a solid option for doors that see a lot of traffic. Note, though, that they aren't exclusively used for emergency exit doors — your commercial locksmith in Schaumburg, Illinois can install them on any door you'd like.
Cylindrical Locks
Cylindrical locks are manual locks that engage and disengage with the use of a key or turnable locking mechanism. They can be used on doors of all kinds, from entry doors to interior doors and beyond. Simple in design and aesthetic, they're extremely easy to use, and they won't do anything to overpower the overall appearance of a room. In fact, in general, they'll add to a room's aesthetic.
Extremely secure, cylindrical locks can hold up under all sorts of wear and tear when properly installed by a commercial locksmith in Schaumburg, Illinois. Through weathering, direct physical trauma, and more, they should remain strong for years to come.
While cylindrical locks don't allow for any automation, they do allow for the use of multiple keys. Therefore, if you wish, you can make a key for every one of your employees.
Electronic Locks
Lastly, we're going to discuss electronic locks. These come in many different types, and they are beneficial for a variety of reasons. Not only do they allow for security automation, but they also negate the need for a key.
Electronic locks can be programmed to engage and disengage at pre-set times. Therefore, if you wanted the locks on your front doors to disengage at, say, 6:00 am, you could pre-set them to do so automatically. This isn't true of cylindrical locks, for instance, which must be opened with a physical key.
There are several kinds of electronic locks that are offered by commercial locksmiths in Schaumburg, Illinois. These vary from electronic keypad locks to electric strike locks to FOB-based electronic locks and more. Each of these has different benefits and drawbacks. If you want to learn more about them, do not hesitate to give us a call.
Our locksmiths are well-versed in the installation of all types of electronic locks and can provide you with all the information you need. Give us a call now to discuss your electronic lock needs.
Looking for a Reputable Commercial Locksmith in Schaumburg, Illinois?
Have you decided on the right type of locks for your building? Ready to have them installed? If so, the professionals at Suburban Door Check & Lock Services are the people to call.
As the most trusted commercial locksmith in Schaumburg, Illinois, we have been installing, repairing, and maintaining locks throughout the area since 1963. Whether you need indoor locks, outdoor locks, or something in between, our team looks forward to assisting you.
Contact us today at (630) 968-4727 to schedule a free consultation.