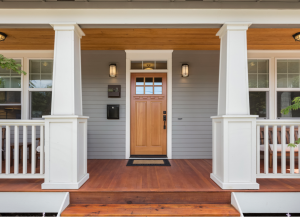 Whether you're building a home from scratch, or you're making updates to your current home, the subject of locks is likely going to come up at some point. To that end, if you decide to install new locks, there are several things you'll want to consider. This residential locksmith in Clarendon Hills, Illinois is going to review them below.
Your Budget
The very first thing you need to consider when choosing residential locks is your budget. You don't want to spend so much that you put yourself in a financial hole. As such, a budget must be devised.
Residential locks come in a wide range of prices. While the lowest-priced locks don't typically possess the quality of the most expensive locks, there are still several great, affordable locks for you to choose from.
You shouldn't necessarily settle for the most affordable locks you come across. Most residential locksmiths in Clarendon Hills, Illinois recommend setting a maximum budget that you're comfortable with and finding the best locks within that budget.
How the Lock Will Look on Your House
Though locks are on the small side, they will still affect the overall aesthetic of your home. As such, when choosing new locks, you'll want to make sure they will mesh well with the appearance of your house.
You can find locks in a variety of styles and materials. Some locks possess a cylindrical appearance. Others come equipped with large, rectangular plates. There are several other shapes to choose from as well.
As far as materials go, there is everything from brass to steel to chrome to nickel and more, each of which possesses a unique feel and identity. If possible, you should place the lock by your door to see how it presents itself. This is the only true way to see whether it fits with the decor of the rest of your home.
If you need help determining which style and material works best for your home, your residential locksmith in Clarendon Hills, Illinois will be happy to assist you.
The Features of the Lock
Manual locks are relatively straightforward. You put a key in it, turn the key, and the lock disengages. It's simple and effective.
However, you might not like the idea of having to carry around a key. In that case, you could opt for electronic keypad locks. These don't require a physical key to disengage them. Instead, they require their users to enter a specific passcode.
Both types of locks can get the job done. You'll just have to choose the one that best suits your preferences and needs.
The Lock Manufacturer
Not all locks are built equally. Some possess much better construction quality, and thus are more secure overall.
In general, you can gauge a lock's construction quality by seeing who manufactured it. If the manufacturer is a reputable name that's been in the lock business for decades, it's probably a safe bet. If it's a name you've never heard of before and it is difficult to find any information about it online, it's probably best avoided.
Are you wondering which lock manufacturers are the best? There are many excellent options today, ranging from from Schlage to Emtek to Dormakaba and more. As always, your residential locksmith in Clarendon Hills, Illinois can help you find a high-quality option.
Looking for a Residential Locksmith in Clarendon Hills, Illinois?
Are you ready to have new locks installed on your home? If so, and if you're looking for the top-rated residential locksmith in Clarendon Hills, Illinois, look no further than Suburban Door Check & Lock Service.
With a huge selection of locks to choose from, we're sure to have an option that's perfect for your home. Contact us today at (630) 968-4727 to get started.