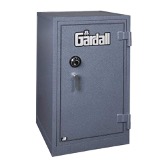 Do you need a place to store valuable items in your home? If so, you would be wise to invest in a residential safe. Residential safes are tough, secure, and capable of storing all types of items.
Are you interested in learning more about residential safes? This residential safe company in Indian Head Park, Illinois is going to discuss everything you'll need to know below.
Types of Safes
There are all types of residential safes available to you. These include (but aren't limited to) the following:
Standalone Safes
Standalone safes are safes that are viable on their own. In other words, they don't need to be supported by a wall or an area under the floor. They balance on their own, and they can be moved to wherever you need them.
These safes come in a variety of sizes and shapes, and they're designed to store all sorts of different items. You can get in touch with your local residential safe company in Indian Head Park, Illinois to learn what kinds are available.
Wall Safes
Wall safes are safes that are embedded into walls. Their doors protrude out from these walls slightly while their contents are entirely concealed. These safes are beneficial in that they take up minimal space, all the while providing the extra security that a wall offers.
Floor Safes
Floor safes are like wall safes, except they're installed in floors instead of walls. In other words, their doors protrude just slightly from the ground, with their contents existing entirely under the ground.
Gun Safes
If you own a rifle or a firearm, you would be wise to keep it locked away inside a gun safe, which is a safe that is specially made to store guns and gun accessories. These are available for all types of guns, and they will do the best job of protecting both your weapons and those who live inside of your home.
What to Consider When Choosing a Residential Safe
When picking out a residential safe, there is more to consider than just its style. Some other things to consider include:
Its Weight
One of the most important things to consider is the safe's weight. You don't want the safe to be too light. If it is, someone could pick it up and just walk off with it. You want it to be heavy enough so that the average person struggles to carry it any notable distance. In many cases, 150 pounds or more will suffice.
Its Lock Type
Another thing to consider when choosing a safe is its lock type. Safes come with a wide variety of locks. These include everything from combination locks to keyed locks and even biometric locks.
Each type of lock provides different upsides and downsides. As such, the type you choose really comes down to personal needs and preferences.
Don't want to have to worry about a key? A combination lock might be best for you. Trying to buy on a tight budget? If so, you'll probably want to stay away from biometric locks — but there are still plenty of other great options that your residential safe company in Indian Head Park, Illinois can help you consider.
Its Storage Features
Some safes are just like boxes. They contain a single large storage area into which you can throw your many items. Other safes contain a collection of storage areas. As such, they allow for more organization.
Neither option is necessarily better than the others — however, one might be better for your purposes. You can always discuss it ahead of time with your residential safe company in Indian Head Park, Illinois to make sure you get the right safe for your needs.
Looking for a Residential Safe Company in Indian Head Park, Illinois?
Are you interested in installing a residential safe? Looking to have one installed by the best residential safe company in Indian Head Park, Illinois? If so, Suburban Door Check & Lock Service is the company to call.
Contact us today at (630) 968-4727 to get started.