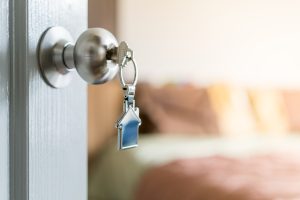 Residential locks are generally quite reliable when it comes to keeping your home secure. However, they're not indestructible, and there are certain problems and situations that often require a complete lock replacement.
Are you curious as to what these problems and situations might be? This residential locksmith in Hinsdale, Illinois is going to discuss some signs that it's time for a lock replacement below.
Did You Just Move into a New Home?
When you move into a new house in Hinsdale, Illinois, it is a good idea to install new locks. This is true whether your house is brand new or was lived in by a previous resident.
Why is it important to change the locks on your new home? Because, for all you know, someone else could have a key that works. Whether it be a construction worker, a real estate agent, the previous resident, the previous resident's ex-girlfriend, or otherwise, it doesn't matter. If someone has a key to your lock, they could potentially make their way into your home.
The only viable option is to have the locks replaced. Replace the locks, and you'll know for sure that you're the only person with a compatible key.
Has Someone Come Into Your Home Through a Locked Door?
Another sign that you need new locks is that someone has come into your home in Hinsdale, Illinois through a locked door. In other words, someone has broken into your house.
Simply put, until you replace your existing locks with new locks, your home (and everyone in it) is vulnerable. After all, if someone broke in once through your existing locks, they can do it again through your existing locks.
Not sure where to get new locks? Give a call to your local locksmith. They'll find the perfect locks for your home and then help install them for you.
Are Your Locks Aesthetically Deteriorated?
There don't have to be any security concerns in order to prompt a lock replacement. Your locks looking bad is reason enough to make a change.
As such, whether your locks have been worn down by time, or whether they just don't fit in anymore, you should make a replacement. After all, if your locks look bad, they'll cause the rest of your home to look bad as well.
Fortunately, there are all sorts of great modern locks to replace your existing locks. From cylindrical locks to mortise locks to electronic locks and more, there's sure to be something that accommodates your tastes.
Are Your Locks Mal-Functioning?
A final reason that you should replace your locks is that they're not functioning correctly. This could mean that they're difficult to turn; it could mean that they're hanging loosely off of their corresponding doors; it could even mean that they're misaligned with their latches.
While some of these problems can be fixed with repairs, many of them require replacements. Call your local residential locksmith and have them make an assessment. They'll decide the necessary course of action and then facilitate it, ensuring that your home is as secure as possible.
Need a Lock Replacement? Contact the Premier Residential Locksmith in Hinsdale, Illinois
Do you need to install new locks for your home? Looking for the top-rated residential locksmith in Hinsdale, Illinois? If so, the team at Suburban Door Check & Lock Service has you covered.
We offer a wide variety of high-quality locks, including electronic locks, cylindrical locks, mortise locks, and more. Regardless of your preferences and needs, we're sure to have an option that works for your home. Contact us today at (630) 968-4727 to learn how we can help.