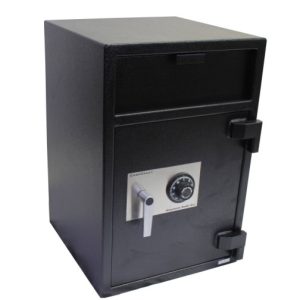 As a homeowner, would you sleep better at night knowing you have a safe place to store your valuables? If so, you should think about installing a residential safe. However, before you go and buy the first one you come across, you'll want to be sure you're making the right choice.
If you're looking for some advice, then you've come to the right place. Below, this residential safe company in Broadview, Illinois is going to discuss the factors you should consider when searching for a home safe.
Make Sure It's Heavy Enough
First and foremost, you'll want to make sure that the safe is heavy enough. If it's not, a thief could potentially pick it up and run off with it. Now, just how heavy should your safe be? We recommend choosing a safe that's at least 200 pounds. Most thieves will have a tough time stealing a 200-pound metal safe from your home.
Consider Its Fire Protection Capabilities
Most safes provide some level of fire protection. Note, though, that some safes are better at protecting their contents from fire than others. When buying a safe, you'll want to decide on how much fire protection you need, then look for a safe that can provide it.
There are safes available that offer fire protection for anywhere between one and four hours. If you are unsure what you need, a residential safe company in Broadview, Illinois would be happy to help you.
Assess Your Lock Options
Home safes can come with a wide variety of locks, each of which offers its own benefits and drawbacks. Part of choosing a home safe is deciding on the type of lock you would like, then looking for safes that are equipped with that type of lock.
Some of the most common types of safe locks include combination locks, biometric locks, key locks, and keypad locks. None of these options are inherently better or worse than the others. However, if you have a preference, a Broadview residential safe company can accommodate you.
Consider the Different Types of Safes
There are many different types of home safe that are available, each of which offers unique benefits and drawbacks. Before purchasing a safe, you should assess the different types and determine which is best for your purposes. This residential safe company in Broadview, Illinois is going to review some of the most popular options below:
Gun Safes
Aptly named, gun safes are specifically designed to store guns and gun accessories. Possessing great length, they offer all sorts of internal storage compartments, plus built-in racks that help keep the guns securely in place. If you have guns in your home, it's strongly recommended that you store them inside a gun safe.
Jewelry Safes
Jewelry safes are equipped with a variety of internal storage components, allowing you to safely organize and store all types of jewelry. Available in a wide range of sizes, there is sure to be an option that works for your needs.
General Safes
General safes are your standard, run-of-the-mill safes. They can be used to store all sorts of objects, and they are somewhat basic in terms of their internal storage compartments. These safes can be installed in walls, in the ground, and as standalone entities. Available in all sorts of sizes, they can be used to store everything from cash to paper documents to heirlooms and more.
Ready to Install a Safe? Contact the Top-Rated Residential Safe Company in Broadview, Illinois
Are you ready to install a home safe? If so, and if you're looking for the top-rated residential safe company in Broadview, Illinois, Suburban Door Check & Lock Service is the company to call.
With a wide variety of home safes to choose from, we can help you decide on the perfect model for your home. Whether you're looking for a floor safe, a gun safe, a wall safe, or something else, we can accommodate you. Contact us today to get started.