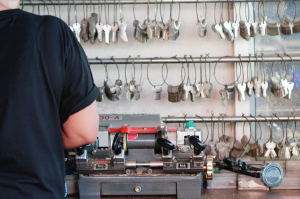 Are you looking to install new locks on your home? Maybe one of your existing locks needs to be repaired? Regardless, if you're reading this article, then you're most likely searching for the best residential locksmith in Lisle, Illinois.
The question is: how do you find the best locksmith? You can do so by looking out for a few specific attributes, which we will discuss below.
Experience
When you're hiring someone to perform work on your home or property, experience matters. In most cases, the more experience a locksmith has, the higher level of service he or she will provide.
Not only does experience help a residential locksmith to hone his or her skills, but it also assists in fine-tuning his or her business practices. This results in better customer service, better payment processing, and a better experience overall.
When searching for a residential locksmith in Lisle, it's recommended that you choose a locksmith with at least two years of experience in the field. If a locksmith has maintained a good reputation for this length of time or longer, he or she most likely performs good work.
A Solid Reputation
Not only should your chosen locksmith have a good deal of experience, but a solid reputation as well. If a locksmith has a good reputation, you can generally assume that he or she is going to provide a good service.
Wondering how to find out about a locksmith's reputation? You always can ask around and see if anyone knows of a reputable locksmith in Lisle. On the other hand, you could turn to review websites like Google and Facebook and read what their past customers have to say.
Type in the name of your prospective Lisle locksmith and see what kind of reviews come up. If these reviews are primarily positive, the locksmith is most likely a safe bet. If the reviews are primarily negative, you should consider other options.
Insurance
Another thing to look out for is insurance. You'll want to make sure that your chosen locksmith is fully insured.
Why is insurance important? Because it protects you if any damage is done to your house, or if one of the locksmith's employees is injured on your property. The locksmith's insurance will cover the costs of these incidents, thus preventing you from having to pay.
You'll want to look out for general liability and workers' compensation insurance, specifically. You can ask to see proof of both before hiring a locksmith.
Affordable Prices
Finally, you should make sure that the Lisle locksmiths you're considering have affordable prices. Each locksmith has a different rate, and these rates can fluctuate quite a bit.
How do you find out the rates of different locksmiths? You can always call and ask for estimates on the types of work that you need to have done (like a quote on a lock installation, for example).
Any reputable locksmith should be willing to provide you with a rough estimate. If a locksmith refuses to give you a ball park estimate, or is a bit hesitant about doing so, you may want to take your business elsewhere.
Looking for the Best Residential Locksmith in Lisle, Illinois
Are you still searching for the best Lisle residential locksmith? If so, look no further than the professional locksmiths at Suburban Door Check & Lock Service.
We provide all the locksmith services you could ever need — including lock installations, lock repairs, lock maintenance, safe installations, and more. Contact us today to request a free quote.