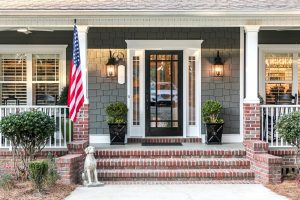 Locks are built to withstand all types of wear and tear. However, that doesn't mean they don't take on problems from time to time. In fact, it's almost certain that you will experience an issue with your locks at some point.
Whenever an issue pops up, it's best to contact a professional locksmith for a repair. Are you wondering whether you need a lock repair? Take it from an Addison residential locksmith: here are four signs that you do.
1. You Have Trouble Turning Your Key
One sign that you need a lock repair is that you have trouble turning your key. Over time, the interior of a lock can wear down, creating friction against the key. As such, the key doesn't turn easily like it should.
There is nothing normal about this. In fact, at some point, it could cause your key to break off inside of the lock. This is something that you'll want to avoid.
So, instead of letting the problem persist, it's better to hire an Addison residential locksmith for a repair. He or she might need to lubricate the inside of the lock to facilitate a smoother turn. If necessary, he or she can replace the lock as well.
2. Your Deadbolt Jams into the Doorway
Another sign that it's time for a lock repair is that your deadbolt jams into the side of your doorway. If this is happening, it's because the door has shifted over time, and the dead bolt is no longer properly aligned.
This will likely get worse as time goes on, and at some point, you might have trouble turning the deadbolt at all. To prevent this from happening, you can have an Addison locksmith realign your door so that everything is in proper order.
3. Your Key Broke Off in Your Lock
We alluded to this above: keys breaking off inside of locks. This generally occurs when a lock is difficult to turn. The resistance puts pressure on the key, causing it to lose strength over time and eventually snap in half.
Getting a broken key out of a lock requires certain tools — tools that most homeowners do not have. However, locksmiths do have these tools, and they will be able to remove your broken key from your lock with ease.
4. Your Lock Is Loose
The last sign that you need a lock repair in Addison is that your lock is loose. Locks tend to loosen over time due to regular wear and tear. While loose locks may still function, they are less secure than they should be. Not to mention, they're more vulnerable to rain and other forms of precipitation.
For this reason, it's wise to fix a loose lock as soon as possible. Your local locksmith will start by assessing your lock to determine its condition. He or she will then take any necessary action to ensure that it's re-installed correctly. If the lock is no longer functional, your locksmith can replace it for you as well.
Are You Looking for a Lock Repair in Addison, Illinois?
Do you need a lock repair? Are you looking to utilize the services of a residential locksmith in Addison, Illinois? If so, Suburban Door Check & Lock Service can meet all your needs.
Our residential locksmiths have repaired countless locks throughout the Addison area. Regardless of the problem you're facing, we can provide an affordable solution. Contact us today to schedule a lock repair.