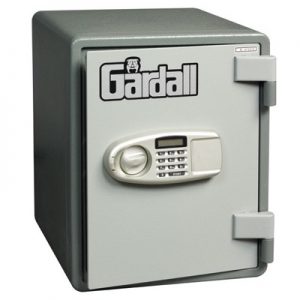 Are you thinking about installing a residential safe? Before you do, it's important to make sure that you'll get good use out of it. As such, you might be wondering: what should you store in your residential safe in Villa Park, Illinois?
Great question, and it's one that we're going to answer in detail below. Without further ado, here are the items that are commonly stored inside residential safes.
Passports
Do you like to travel abroad? If so, you probably have a passport in your possession. As you might know, getting a passport can be a hassle. As such, if you were to lose your passport, it would end up being a costly and inconvenient endeavor to get it replaced.
For this reason, it's best to keep your passport inside of a residential safe to ensure that it's not misplaced or stolen.
Birth Certificates
There are certain things in life that you'll need your birth certificate for. However, if you're like a lot of people, you don't use it much. As such, you might be prone to misplacing it.
For this reason, you should consider placing your birth certificate in a residential safe. The safe will not only act as a known storage spot, but it will also help protect the birth certificate from damage and theft.
Cash
Maybe you like to keep a few hundred dollars of cash available in your home? While this can be convenient for certain things, it can also leave you vulnerable to losing large amounts of money at one time.
For this reason, if you like to keep cash in your home, we recommend that you store it inside a home safe. Your safe will protect your cash from theft, and it will also provide you with a familiar place to store it.
Jewelry
Do you keep any expensive jewelry in your home? If so, it could become a target for theft. Not to mention, you could misplace it somewhere and spend hours searching for it. Want to ensure that your jewelry stays put? Install a safe in your Villa Park home and use it to store your jewelry.
Weapons
Whether it's knives, guns, or otherwise, if you have weapons in your home, it's strongly recommended that you store them in a safe. There are two reasons for this: first, weapons carry great value and could be the targets of thieves; and second, weapons can be highly dangerous when they're in the wrong hands.
For guns, there are specially made safes available. These will allow you to store your guns, your ammo, and your gun accessories in as safe and in as secure a manner as possible.
Family Heirlooms
Whether it's your grandmother's wedding ring, your grandfather's pocket watch, or some other item that's important to you, you may want to store it inside a residential safe. After all, an heirloom is a one-of-a-kind item. If you were to lose it, you wouldn't be able to replace it.
A home safe is the only storage option that will provide it with the level of protection that it deserves.
Medication
There are some medications that are too potent to keep in the medicine cabinet. These are the medications that, if accidently consumed by children or pets, could lead to tragedy. If you have any of these in your Villa Park home, it's best that you keep them locked away in a safe.
Interested in Installing a Residential Safe in Villa Park, Illinois?
Are you interested in installing a safe? Looking for a residential safe in Villa Park, Illinois? If so, we here at Suburban Door Check & Lock Service are the people to see.
We've installed residential safes in countless homes throughout the Villa Park area and beyond. Regardless of the type of safe you're hoping to install, we have an option that you're sure to love. Contact us today to schedule an appointment.