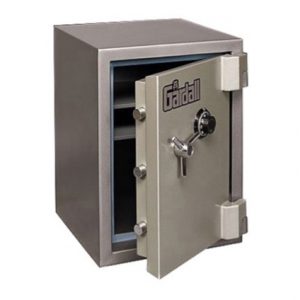 Have you decided that you want to install a residential safe? The only issue is that some people become overwhelmed when trying to differentiate between the many options that are available.
That's why you're here: you're looking for a bit of help in picking the right one. Fortunately, we can provide you with all the information you'll need to know. Without further ado, here is how to pick a residential safe in Elmhurst, Illinois:
Make Sure It's Large Enough for Your Needs
You likely have some idea as to what you want to store inside your safe. It could be paper documents, family heirlooms, weapons, or something else. In any case, regardless of what you're going to store inside your safe, you'll want to make sure that it's large enough.
Measure the items that you wish to store, then compare them against the dimensions of the inside of the safe. It's important to leave a little bit of clearance on each side to ensure that the items fit comfortably.
Assess the Style of the Storage Compartments
Residential safes come with all sorts of storage compartments. Some contain just a single, large storage compartment, while others contain a series of small and intricate ones. Some even possess gun holders and the like.
Choose a Lock Style That You Like
Home safes come with a number of different types of locks, each of which offers different benefits and drawbacks. None of these locks is particularly better than the others. However, that said, you might have a personal preference.
Before buying your safe, you should do some research. Read up on combination locks, digital locks, key locks, biometric locks, and more. Decide which lock you like the best, then search for a safe that has that type of lock.
Determine Where You're Going to Put the Safe
Safes vary from small, to large, and everything in between. As such, regardless of the size of your home, you should be able to find a convenient place to put your new safe.
If your home is on the smaller side, you might have trouble finding a good spot for a large safe. For this reason, before buying, it's best to determine exactly where you want to put your safe.
Find a location, measure it with precision, and ensure that the safe you purchase is able to fit within it. Closets are popular spots for safes, but where you put your safe is completely up to you.
Make Sure It's Well Built
Any safe you consider purchasing should be strong and well built. You'll want to make sure the safe is built well enough, and that it's able to be bolted down to avoid it from being carried away by a thief. Most of our safes can be bolted down through a factory-provided hole in the bottom of the safe.
Find a Reputable Manufacturer
Not all safes are created equal. In fact, quality can vary greatly from manufacturer to manufacturer. As such, before making a purchase, you'll want to do some research and make sure that the manufacturer you choose is reputable.
Some of the best manufacturer on the market today include Hayman and Gardall, though there are other options out there.
Looking to Install a Residential Safe in Elmhurst, Illinois?
If you're looking to install a residential safe in your Elmhurst home, then you've come to the right place. Suburban Door Check & Lock Service has you covered.
We offer a wide variety of residential safes — from gun safes and much more. Regardless of your needs, we have a safe that will work for you. Contact us today to discuss your options!