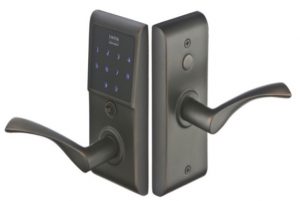 After years of using manual locks, many homeowners are now switching to electronic locks for the first time. However, many people are unaware of the benefits that electronic locks provide.
Are you looking for more information about electronic locks? Fortunately, this Lemont residential locksmith can explain everything you'll need to know. We're going to discuss electronic keypad locks in detail below, helping you decide whether or not they're right for your home.
How Do Electronic Keypad Locks Work?
Electronic keypad locks are able to work without the use of keys. When you want to engage or disengage one of these locks, you can simply punch in the designated key code. This will trigger the lock and allow you to turn it over.
Most keypad locks use a four-to-six-digit code. You can program them to accept any code you want.
Most keypad locks only work with batteries. As such, in the event that the power goes out, they will remain entirely operational.
Highly secure, electronic keypad locks are a perfectly viable solution for front doors, back doors, and every other door that demands protection. If you want the option to stop using keys, installing electronic keypad locks could be perfect for you. As always, you can call your local locksmith for more information!
The Benefits of Electronic Keypad Locks
There are a number of benefits that come with installing electronic keypad locks. These include the following:
No Need for Keys
One of the most obvious benefits of electronic keypad locks is that they don't require keys. You can go out for a swim, a run, a bike ride, or otherwise, all without having to carry your keys around with you. Traditional locks cannot provide this benefit.
Quick Access Changes
Most electronic keypad locks allow you to set several different passcodes at once. As such, you could conceivably give a different code to every member of your household. What this means is that, if you wish, you can grant and take away access as needed.
For example, let's say you used to have a roommate living with you, but they just moved out. You don't want that roommate to have access to the house anymore, so you want to take away his or her access to the locks. With electronic keypad locks, this is as simple as making his or her pass code ineligible. With manual locks, on the other hand, you would have to either take away his or her key or rekey the locks.
High Security
It's important to ensure that your passcodes don't get passed around to those who aren't supposed to have them. As long as you keep them under wraps, you shouldn't have to deal with anything out of the norm.
If you have any security concerns about electronic keypad locks, give us a call. We're able to answer any questions you might have, and we'll help you feel comfortable about your decision to install them.
Looking to Install Electronic Locks in Lemont, Illinois?
Are you intrigued by electronic locks? Are you looking to install them on your home in Lemont, Illinois? If so, look no further than the locksmiths at Suburban Door Check & Lock Service.
We have installed electronic locks on a number of homes throughout the Lemont area. With a wide range of unique styles to choose from, we're sure to have something you enjoy.
Contact us now to discuss your security needs!