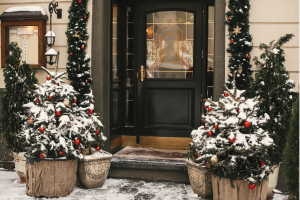 Like many things in the home, your locks will eventually wear down and will need to be replaced. The question is: how can you tell when it's time to replace your locks? What are the signs that a lock replacement is necessary?
This is a good question, and it's one that this Itasca residential locksmith can answer. Here are the primary signs to look out for:
Has Your Home Been Recently Broken Into?
A home break-in is a sure sign that you need to replace your locks, especially if the intruder entered through one of your locked doors. After all, if they were broken into once, they could be easily broken into again. As such, your old locks would be creating an unsafe environment for you and your family.
New locks will cost you a bit of money in the short-term, but it's a small price to pay for safety of your home. To discuss your lock replacement options, you can contact your local residential locksmith.
Do Your Locks Look Old and Deteriorated?
Not only do locks offer a functional benefit to a home, but an aesthetic benefit as well. However, if your locks are old and outdated, they could actually become an aesthetic detriment instead.
As such, if you care about the look of your home, you may want to think about replacing your locks when their aesthetics start to decline. Yes, they're just a small part of the overall aesthetic, but even this small detail can make a difference.
Have Your Locks Suffered Structural Damage?
Maybe your locks jiggle around every time you touch them? Perhaps they're difficult to turn? In any case, if your locks are suffering from structural damage, a residential locksmith is the person to call.
In some cases, locksmiths can repair structurally impaired locks. In other cases, those locks will need to be replaced entirely. Regardless, a residential locksmith will be able to assess your situation and recommend the best course of action.
Are Keys to Your Locks Floating Around Town?
Maybe you gave a spare key to your neighbor so that he or she could water your plants while you were away on vacation? Perhaps you gave a key to an ex so that he or she could come into your home when necessary? Whatever the case may be, if there are keys to your locks floating around out there, you may want to consider having your locks replaced.
There's a good chance that you may never get those keys back. However, by changing your locks, you would negate them entirely. In other words, you would be fully restoring the security of your home. As always, a residential locksmith can help you find the appropriate replacement locks.
Did You Just Move into a New Home?
One last situation where you should have your locks replaced is when you just moved into a new home. It doesn't matter whether the home is brand new or previously owned — somebody could have a key to its existing lock.
If someone has a key (whether it be the previous owners, construction workers, or otherwise), a break-in is a possibility. It's best that you change your locks to prevent this from happening.
Need an Itasca Residential Locksmith?
Have your locks reached their limit? Need an Itasca residential locksmith? If so, we here at Suburban Door Check & Lock Service are the people to see.
Our locksmiths have replaced the locks on countless homes throughout the Itasca area. Regardless of the types of locks you're looking to install, our skilled team can assist you.
Contact us today to discuss your options!