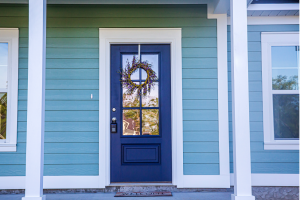 The home is like a sanctuary — it's the place where most people go to unwind at the end of a long day. As such, you'll want to make sure it's as secure as possible.
Who do you call when you're looking to improve the security of your home? A residential locksmith. Are you interested in learning more about the specifics of residential locksmith services in Elmhurst, Illinois? If so, then you're in the right place. We're going to discuss everything you'll need to know below.
Lock Installation Services
The locksmiths at Suburban Lock are well-versed in the installation of many different types of locks. Some of the locks we're capable of installing include the following:
Cylindrical Locks
If you're looking for something traditional, there's no need to look any further than a cylindrical lock. Available in a wide variety of styles and materials, these locks offer superb security and durability.
We have ample experience when it comes to installing cylindrical locks, having installed them since our inception in 1963. Offering a number of models from a number of top-notch brands, we're sure to have something that's right for you.
Electronic Keypad Locks
Are you looking for a keyless option? If so, you'll want to consider installing electronic keypad locks. These locks are accessible with the entry of a simple passcode. You'll be able to set a passcode, enter it in, and unlock your home as needed.
We've installed a number of electronic keypad locks throughout the Elmhurst area. Call us today to discuss your options!
Deadbolts
Deadbolts provide that extra layer of security — one that leaves you feeling safe in your home. Built to withstand physical trauma, these are a vital part of every exterior residential door.
If you're interested in installing a deadbolt on your door, we here at Suburban Lock are the people to call.
Lock Repair
Locks are designed to hold up over years and years of consistent use. That said, they can still take on damage from time to time. Fortunately, locks can be repaired. Some of the repairs we're capable of making include the following:
Removing Broken Keys
In rare cases, keys can actually break off inside the keyholes of locks. If you need help removing a broken key, we can help.
Lock Realignment
As years pass, lock components can become misaligned. If you need help realigning them for maximum usability, we're can get it done.
Component Replacement
In some cases, only a portion of a lock may need to be repaired. If necessary, we can replace certain lock components, getting the lock back in working order.
Key Copies
Whether it's because you need spare keys or because your key has become bent or damaged, we can make you a new copy. You can visit our showroom today to get the process started!
Lock Maintenance
Though they're designed to thrive on their own, locks sometimes require maintenance. This maintenance varies from lubrication, to cleaning, to door adjustments, and more. If you need help with any of these tasks, the professionals at Suburban Lock can help.
We're well-versed in the maintenance of both electronic and manual locks, and we will do everything we can to ensure that your locks are fully functional. Contact us today to schedule an appointment!
Looking for Residential Locksmith Services in Elmhurst?
If you're in need of residential locksmith services in Elmhurst, Illinois, look no further than Suburban Door Check & Lock Service. In business since 1963, we are experts when it comes to residential security.
In addition to offering locksmith installation and repair services, we can also maintain your locks, helping make your home as secure as possible. Contact us today to discuss your needs!