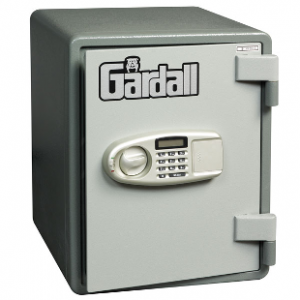 Most homeowners have quite a few valuables and sentimental items contained in their house. As such, if you've recently purchased or moved into a new home, you'll want to think about installing a safe. However, before you do, it's important to take some time to make sure you're choosing the right model.
That's why you're here: you're looking for a little more information. Without further ado, here are some considerations to make when buying a home safe in Darien, Illinois:
The Weight of the Safe
When it comes to buying a home safe, one of the most important things to consider is its weight. If a safe doesn't weigh enough, it could easily be picked up and ran off with. This effectively makes it useless.
A safe should be difficult for the average human being to pick up and carry away. The question is: how heavy is heavy enough? In most cases, 150 pounds should get the job done. Unless it's a world class athlete who is breaking into your home, most people aren't going anywhere with a 150-pound safe at a reasonable pace.
Home safes typically weigh anywhere from 50 pounds to 1,000 pounds, and sometimes even more. An experienced Darien home safe and locksmith will be able to help you find an option that works best for your situation.
The Fire Resistance of the Safe
The vast majority of safes are designed to offer some level of fire protection. Now, you might be wondering: how do you assess a safe's fire resistance capabilities? What you'll want to do is look for an independent testing sticker. Any reputable safe will be tested by an independent company in order to assess its fire proofing characteristics. These characteristics will then be labeled on the outside of the safe.
The two biggest independent testers of home safes are United Laboratories and Intertek. If you see one of these names on your safe, you'll know that its fireproofing qualifications can be trusted.
The Safe's Lock
Home safes come with a wide variety of locks. Though none of these locks is objectively better than any other, you might have a preference as to which type best suits your needs.
Some common types of locks you might come across include combination locks, digital locks, and key locks. Note, though, that there are other options available. If you wish, you can read up on the specifics of some of the more obscure types so that you can make a more informed choice.
The Purpose of the Safe
Not all safes are created equal. Whereas some are designed to hold small valuables like cash and jewelry, others are designed to hold large entities like guns, swords, or memorabilia. Some are even specifically designed for the storage of guns.
Before making a purchase, you'll want to assess your storage needs. If you do own a gun, it's strongly recommended that you keep it locked away in a gun-specific safe. If you are only planning on storing cash and miscellaneous paperwork, a smaller, 100-pound safe may suffice.
Looking to Install a Home Safe in Darien?
Are you ready to install your home safe? In need of a home safe in Darien, Illinois? If so, then you've come to the right place — look no further than Suburban Door Check & Lock Service.
We have a wide variety of safes to choose from, and we've installed them in countless homes throughout Darien. Regardless of your needs, our team is here to assist you.
Contact us today to begin the process!