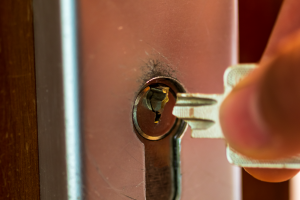 Locks are, for the most part, very sturdy. They're meant to thrive through many years of wear and tear. That said, they can still take on damage from time to time.
This damage can present itself in a number of ways — some of which are more extreme than others. Are you curious as to the different types of damage you might come across in locks? If so, then you're in the right place. Here are four common lock problems that require a Villa Park locksmith service.
1. Broken Key in Lock
One of the most common lock problems is a broken key that's stuck inside the lock. This typically occurs after a key has been subjected to years of consistent use. It eventually wears down and can no longer face the strain of being turned in the keyhole, and eventually, it breaks off.
When you break a key inside a lock, it can be tough to remove the key on your own. Fortunately, locksmiths have tools that are specifically designed to remove broken keys from locks. As such, all you have to do is call your local locksmith, and he or she can remove the broken key from the lock in no time.
Need a new key as well? Your Villa Park locksmith can handle that for you, making as many copies as you need.
2. Difficult Turning Lock
Do you feel as though you have to struggle every time you need to lock or unlock your door? If so, they're undoubtedly in need of attention.
A lock that is difficult to turn could be suffering from a number of problems. It could just be misaligned with the doorway, leading to great friction during engagement and/or disengagement. On the other hand, it could be suffering from internal structural problems.
In either case, it's recommended that you bring out a locksmith to assess the problem. He or she will get to the bottom of it and make any necessary replacements or repairs.
3. Key Not Inserting into the Lock
Another problem you might encounter is that the key is not inserting into the lock. In the vast majority of cases, this occurs when the key is brand new and was not cut properly to fit the lock.
In some cases, it can be solved with a bit of lubrication. In other cases, however, the key will need to be altered. Regardless of your situation, a professional locksmith can get the job done for you.
4. Loose Lock
Over time, as a lock is subjected to more and more wear and tear, it becomes looser and looser, and it can start to separate from its corresponding door. Though it doesn't always, this often leads to functionality issues.
Regardless of whether or not functionality issues have arisen, this is a problem that you'll want to have fixed. Even if there are no functionality issues to speak of, a loose lock is inherently less secure than a tight lock. As a result, security can become an issue.
If your lock is loose, it's strongly recommended that you hire a Villa Park locksmith. A locksmith can tighten up or replace your lock, improving both the security of your home and the functionality of your lock.
Looking for Villa Park Locksmith?
Are you experiencing any of the problems reviewed above? Looking for a Villa Park lock repair company? If so, we here at Suburban Door Check & Lock Service are the people to see.
We have repaired countless locks throughout Carol Stream, Illinois. Regardless of the problem you're facing, we are here to help.
Contact us today to schedule an appointment!