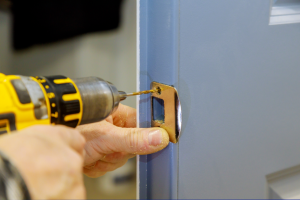 Are you searching for a locksmith in Wood Dale, Illinois? If so, it's important that you do the necessary research. Failure to do your research could result in poor service, wasted time, and maybe even wasted money.
Now, you might be wondering, "what should I research? What do I need to know about a Wood Dale, IL locksmith before utilizing his or her services?". We're going to answer these questions in detail below.
Look for Experience
The first thing to look for when hiring a locksmith is experience. Generally speaking, the more experience a locksmith has, the higher his or her level of service will be. Sure, there are exceptions to this, but they're just that: exceptions.
We suggest hiring a locksmith with a minimum of 3 years of experience. In most cases, locksmiths with less experience than this have not yet proven their capabilities on a consistent enough basis. Locksmiths who have exceeded this level of experience are, generally speaking, a much safer bet.
Ask for Referrals
You don't just want an experienced locksmith; you want an experienced locksmith with positive experience under his or her belt. How can you determine whether a locksmith has positive experience? By getting referrals.
There are two ways to get referrals. One method is to ask your prospective locksmith directly. A reputable locksmith should be willing to guide you to a referral without any resistance.
The other option is to check online review websites. Sites like Google, Facebook, and Yelp are filled with reviews from past customers. These reviews should help you gain a fairly clear perspective on the locksmith's services.
Make Sure There's a Physical Address
In order to confirm a locksmith's legitimacy, you need to make sure that he or she has a physical address. Ideally, the locksmith will have a dedicated business property, one which is used only for locksmithing endeavors.
There are two ways to check on a physical address: 1. Drive to the address yourself and see if the business is, indeed, there, or 2. Use Google Street View to see a photograph of the business property.
Check for Insurance
When a locksmith steps into your home, it's vital that he or she has the proper insurance policies. Why? Because utilizing the services of an uninsured locksmith leaves you vulnerable to the costs of home-related damages. On the other hand, utilizing the services of an insured locksmith protects you from these costs.
There are two types of insurance to check for. One of these is general liability insurance, and the other is workers' compensation insurance. We recommend asking to see legitimate proof of both.
Get a Cost Estimate
Not all locksmiths charge the same rates. In fact, rates can vary drastically from locksmith to locksmith. As such, before hiring anyone, you should ask for a cost estimate.
Any reputable locksmith will provide an estimate without resistance. Just inform the locksmith of the service you require (ie. lock replacement, lock repair, etc.) and ask how much it would cost. Then, compare that cost to the costs of other locksmiths in the area. Choose one that fits within your budget, and you should be good to go.
Hire a Reputable Wood Dale, IL Locksmith
Do you need to have a lock replaced? Need to have a lock repaired? If so, and if you're in need of a reputable locksmith in Wood Dale, Illinois, there's no better company to call than Suburban Door Check & Lock Service.
Our locksmiths have serviced a number of homes and businesses throughout the Wood Dale area. We would be happy to assist you as well.
Utilize our services by contacting us today!