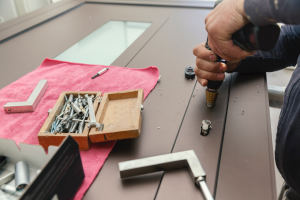 When a lock is installed, it's designed to thrive through decades of consistent use. Unfortunately, however, there will come a time when it breaks down past the point of repair. When this point arrives, the lock will need to be replaced.
Wondering whether your locks are in need of a replacement? This Elgin locksmith has you covered. Here are some signs to look out for.
Are Your Locks Getting Difficult to Turn?
One sign that your locks might be past their prime is that they're getting difficult to turn. This difficulty often presents itself gradually over time, growing in severity as the lock suffers increased deterioration. Eventually, it can become so severe that you're forced to struggle just to disengage the lock.
While this problem can sometimes be fixed with lubrication, in many cases, it requires a full lock replacement. Once the new lock is installed, with proper maintenance, it should be good to go for the next few decades or so.
Has Your Home Been Broken into Recently?
Was your home broken into recently? Did the intruder get in through a locked door? If so, there's no doubt: you should replace the lock.
If an intruder broke into a locked door once, he or she could easily do it again. The longer you wait to replace your lock, the more vulnerable you become.
To prevent break-ins in the future, you might want to consider installing electronic keypad locks. Keypad locks allow you to change accessibility whenever you choose, reducing the risk of a break-in.
Did You Just Move into a New Home?
Maybe you just moved into a new home? If so, whether it was built new or was previously occupied by other residents, it's wise to have its locks changed.
After all, if you didn't install the locks yourself, there's a chance that an unwanted individual could have a corresponding key. This individual could be a previous occupant, a construction worker, or otherwise. Regardless of who it is, it's best to be cautious in these situations.
The only way to be sure that a break-in doesn't occur is to replace the locks entirely. A locksmith can get the job done for you.
Are You Looking to Improve the Functionality of Your Security System?
Are you unhappy with the current security capabilities of your lock system? If so, you should consider making a change. The innovation of electronic locks has revolutionized home security, allowing for increased accessibility and automation.
If you're looking to take full advantage of these benefits, a lock replacement is the best option. After all, increased accessibility and automation could make your life a whole lot easier.
Want to learn more about improvements in modern lock technology? A locksmith is the person to talk to.
Are Your Locks Outdated?
Your locks don't have to be broken down in order to warrant a change. If your locks are outdated, this is reason enough to make a change.
Therefore, whether your locks have been worn down by the elements or simply don't fit in with the modern aesthetic, you should think about replacing them. There are all sorts of lock styles to choose from, so you're sure to find one you like.
In Need of a Lock Replacement? This Elgin Locksmith Has You Covered
Are your locks past their prime? In need of an Elgin locksmith? If so, the locksmiths with Suburban Door Check & Lock Service are the people to see.
We've replaced locks on countless Elgin properties. Regardless of your lock preferences, we are ready to help.
Contact us today to speak with an expert!