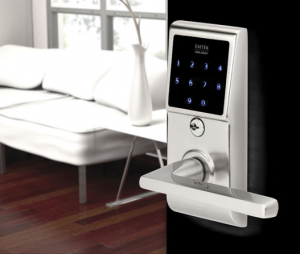 Are you considering installing new locks? If so, you have a number of different types to choose from. While they're all viable options, these days, some of the most popular are electronic keypad locks.
Are you interested in learning about the benefits of electronic keypad locks? This Mundelein locksmith has you covered. Below, we're not only going to discuss the benefits of electronic keypad locks, but their downsides as well.
The Pros
No Need for Keys
One of the biggest benefits of electronic keypad locks is that they eliminate the need for physical keys. Having the ability to leave your house without keys opens your world up to a range of new possibilities.
You can go for a swim without the fear of losing your key. You can go for a run without the annoyance of your key jangling in your pocket. In other words, you can eliminate all of the responsibilities that come with carrying keys.
With electronic keypad locks, all you have to do is remember a code. As long as you can remember the designated code, you can go wherever you want.
Low Risk of Lockouts
One of the big problems with needing a key in order to access your locks is that it leaves you vulnerable to lockouts. Forget to grab your key before leaving the house? You're either going to have to find a creative way to get back into your home, or call a locksmith.
With the use of electronic keypad locks, lockouts are a near impossibility. The only way you could get locked out by an electronic keypad lock is if you were to forget your code.
Convenience
Another benefit of electronic keypad locks is that they allow for maximum convenience. Not only are they easy to open (no digging through pockets to grab keys), but they're also easy to alter. For instance, if someone discovers the code to your lock, you'll be able to quickly and easily reprogram it to change the code.
This is not true of traditional keyed locks. In the event that an unwanted individual gains possession of a keyed lock's corresponding key, you would have to either retrieve the key from the individual or change the lock entirely.
The Cons
Relatively Expensive
Perhaps the biggest con of electronic keypad locks is that they're relatively expensive. You're undoubtedly going to pay more for an electronic lock than you would for a manual lock. This is true both of its purchase price and its installation.
Some Security Concerns
While electronic keypad locks are secure in and of themselves, they do come with some security concerns. Let's suppose that one of your children reveals the code to somebody. This would give that person constant access to your home. Though you could certainly change the code to counteract this problem, it could end up being too late.
Utilize the Services of a Mundelein Locksmith
Are you interested in installing electronic keypad locks? Looking to utilize the services of a Mundelein locksmith? If so, we here at Suburban Door Check & Lock Service are the people to see.
We've installed electronic locks on a variety of homes throughout the Mundelein area. With a variety of electronic locks to choose from, we're sure to have something that suits your home.
Contact us today to get started!