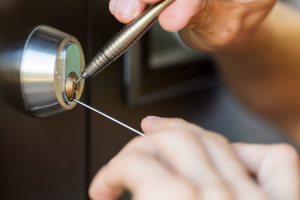 We all feel the need to maintain the security of our homes and businesses. While security can be implemented through a number of means, the most prominent of these means is with the use of locks.
When it comes to the servicing of locks and lock accessories, there's one profession which stands above the others: the locksmith. Wondering what an Aurora, Illinois locksmith can do for you?
Then read on. We're going to discuss five reasons to call your local Aurora, Illinois locksmith.
1. You Need New Locks Installed
It doesn't matter whether you're building a house from scratch or making updates to your current home—if you're installing new locks, you should call your local locksmith. While you could technically install your locks on your own, in doing so, you could be compromising the security of your home. This is particularly true if you've never installed locks before.
Professional locksmiths know everything there is to know about lock installation, and so they're capable of installing your locks in as secure a manner as possible. In other words, if you want to make sure that your locks are installed correctly, you should bring in the professionals.
2. Your Existing Locks Require Repair
Over time, as they're subjected to more and more use, locks take on progressively more wear and tear. After some time, the wear and tear of your locks will reach a point where they'll need to be repaired. When this point arrives, it's highly recommended that you bring in a locksmith to tend to the task.
Locksmiths not only have the knowledge necessary to make lock repairs, but the tools as well. As such, they're better equipped to handle lock repairs than anyone else.
3. You're Hoping to Install a Safe
In need of more security for your cash, weapons, heirlooms, or vital documents? If so, you should ask your local locksmith about installing a home safe. Home safes are the perfect storage entities for valuable possessions, offering protection not only from thieves, but from fire and general irresponsibility as well.
While you could conceivably install a home safe on your own, it might be safer to utilize the services of a locksmith. Plus, a locksmith can help you find the right type of safe for your purposes.
4. You Need More Information on Modern Lock Technology
Like everything on this planet, locks are constantly progressing. What was popular 10 years ago is old news now. As such, you might not know much about modern lock technology.
Looking to learn more? If so, your local locksmith is the person to call. Locksmiths work with locks every day, and they will have all the information you could ever need to know about the subject.
5. You've Locked Yourself Out of Your Home
It seems to happen to everyone at least once in their life: getting locked out of the house. While it can be an embarrassing experience, it's really nothing to get worked up over.
The key is to remain cool and call your local locksmith. He or she will have all of the tools needed to get you back into your home in a safe, fast, and cost-effective manner.
Utilize the Services of an Aurora Locksmith
Do you require one of the above-reviewed services? Looking to utilize the services of an Aurora locksmith? If so, Suburban Door Check & Lock Service has you covered.
Our locksmiths are experts in lock installation, maintenance, and repair, and have helped thousands of home and business owners throughout the Aurora area. Regardless of your needs, we can accommodate them.
Contact us now to utilize our services!