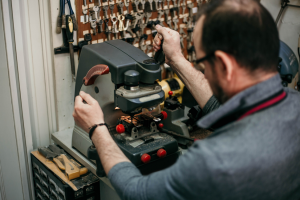 You probably already know that locksmiths deal with locks and keys, but maybe you're not exactly sure of what else they do?
Reputable locksmiths provide a number of vital services, helping home and business owners to keep their properties safe and secure. Looking to learn more about locksmith services in Oak Brook, IL? Then read below. We're going to discuss five services you can utilize.
Install Your Locks
Perhaps you're moving into a new house? Maybe you're building a house from scratch? Maybe you're looking to update the security of your commercial property? Whatever the case may be, you're looking to install new locks.
While you could certainly attempt to install those locks on your own, the safer bet would be to hire a professional locksmith. Professional locksmiths are well-versed in the installation of all types of locks and will ensure that your locks are installed in the optimal manner.
Repair Your Locks
Over time, as they experience wear and tear, locks deteriorate. For this reason, from time to time, they require repair. Though some lock repairs can be carried out by the everyday person, many of these repairs are better accommodated by a professional.
For instance, if a key breaks off in your lock, you might not have the tools necessary to fish it out. A locksmith, on the other hand, would have all of the necessary tools and could make short work of the problem.
If you ever run into a lock problem that you can't handle yourself, it is wise to bring in a professional to complete the task.
Maintain Your Locks
Locks are designed to perform adequately on their own. However, if you want to get the most out of your locks, it is recommended that you actively maintain them.
There is a great deal involved in lock maintenance, including but not limited to lubrication, alignment assessment, and cleaning. While some of these tasks can be handled by the average home or business owner, others of them are better relegated to the professionals…..especially on commercial properties.
If you need help maintaining your locks, you would be well-served by calling up your local locksmith. He or she will have all of the tools and knowledge needed to optimally complete the task.
Counteract a Lockout
No one likes getting locked out of their house or car. Unfortunately, from time to time, these things happen.
Instead of attempting to break through one of your windows, you should call your local locksmith. Locksmiths are well-versed in combating lockouts, and will be able to get you back into your property in a short amount of time.
Teach You About Locks
Like all things, locks are constantly evolving. What was cutting-edge 10 years ago is no longer considered cutting-edge today. With all of this evolution occurring, consumers can have a hard time keeping up with the change.
Do you need help keeping up with this change? If so, a locksmith is the person to call. Locksmiths can teach you everything there is to know about different types of locks, helping you choose the ones that are best suited for your home or business property.
Make Use of Top-notch Locksmith Company in Oak Brook, IL Area
Are you interested in utilizing any of the services discussed above? Looking for a top-notch locksmith company in the Oak Brook area, specifically? If so, Suburban Door Check & Lock Service has you covered.
Over our decades of experience, we've helped countless home and business owners throughout the Oak Brook area. We would be happy to work with you as well.
Contact us today to utilize our services!