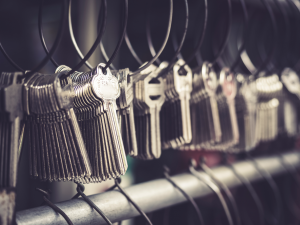 Are you thinking about hiring a locksmith in Oak Brook, Illinois? If so, we urge you to take your time and do your research. Failure to do so could result in receiving poor and incompetent service.
The question is: what should you be researching? What questions should you ask your prospective locksmith before making a hire? Generally, the following questions will suffice.
How Long Have You Been a Locksmith Serving the Oak Brook Area?
The first question you should ask your prospective locksmith is how long he or she has been in the profession. Generally, the more experienced a locksmith is, the better service he or she will provide. While there are exceptions to this rule, it's still a good rule to follow.
At a minimum, your locksmith should have 2 years of experience. A locksmith who has remained in business for this length of time has likely proven his or her competency in the field, as he or she has been successful enough to, at the very least, stay in business.
Are You Certified?
In the State of Illinois, professional locksmiths must pass a Locksmith Licensure Exam before entering the profession. This exam proves that a given locksmith has the experience and skills necessary to work with locks on commercial and residential properties. Therefore, when searching for a locksmith, it's important to ask about this licensure.
In addition to this license, you should also keep an eye out for certification. Some locksmiths go above and beyond when it comes to their credentials, joining locksmith associations such as the Associated Locksmiths of America. Ideally, your locksmith will have not only a state locksmith license, but additional certification as well.
Do You Have Insurance?
When bringing in a locksmith to perform work on your home, it is extremely important that he or she has insurance. If you utilize the services of an uninsured locksmith, and if he or she causes damage to your home, you could be held liable for the damages. Conversely, if the locksmith is insured, he or she will be held liable instead.
If your locksmith is working without an assistant, it's wise to make sure that he or she has general liability insurance. If he or she has an apprentice, workers' compensation insurance will be needed as well.
Do You Have Any Referrals?
What's the best way to ensure the quality of a locksmith's future services? By getting a feel for the quality of the locksmith's past services. How can you accomplish this? Either through customer referrals, or by reading online customer reviews.
First, ask your prospective locksmith if he or she can give you any referrals. Any reputable locksmith will have these at the ready.
Then, take a look at review websites such as Facebook, Yelp, and Google. These will provide a wealth of past-customer reviews for you to refer to.
What are Your Rates?
Different locksmiths charge different rates for different locks and services. It's up to you to determine whether or not you can afford these services. For this reason, it's best that you explicitly ask your locksmith for an estimate of the work that's to be completed.
Never, under any circumstances, should you hire a locksmith without first receiving an estimate. Any locksmith worth your time will provide one to you.
Hire a Reputable Oak Brook Locksmith Now!
If you're reading this article, it's likely because you're in need of a reputable Oak Brook locksmith. If so, look no further. You've found that locksmith with Suburban Door Check & Lock Service.
Our locksmiths have served countless individuals throughout the Oak Brook area. Regardless of your needs, our team can accommodate you.
Utilize our services by contacting us today!