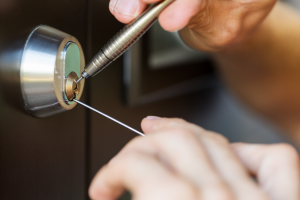 If you're experiencing an issue involving a lock, there's only one type of person to call: a Wood Dale locksmith! Locksmiths offer a range of lock-related services, ensuring the security of commercial and residential properties all throughout their communities.
Wondering what a Wood Dale locksmith can do for you? If so, you are in the right place. Here are the services provided by a locksmith in Wood Dale.
Lock Replacement
Perhaps you're moving into a new home? Maybe you're making some updates to your existing home? Whatever the case may be, you're looking to change its locks.
While you might be able to change your locks on your own, you would be better suited by utilizing the services of a professional locksmith. Locksmiths are specially trained in the installation and replacement of locks and can replace yours in the safest and most secure manner possible.
A Wood Dale locksmith will also be able to introduce you to the various types of locks that are available to you. For instance, he or she could inform you of the benefits of electronic keypad locks, helping you to make a decision between traditional and modern lock technology.
Wood Dale Lock Repair
Overall, locks are fairly reliable. However, from time to time, they will experience impairment and will require repair. When this happens, it's usually wise to call up a local locksmith, as he or she will know how to make the repair that's needed.
Locksmiths can remove broken keys from keyholes, tighten up loose doorknobs, replace vital lock components, unleash sticky deadbolts, and carry out a variety of other repairs.
While you might be able to perform a number of these repairs on your own, you could also end up making the problem worse than it already is. For this reason, it's wise to use the services of a licensed and certified locksmith.
Lock Maintenance
Locks will generally thrive for a long time on their own. However, if you want to get the absolute most out of your locks, it's recommended that you perform proper maintenance on them on a consistent basis. This will ensure that they're in as good of shape as possible, and that they're performing to the best of their capabilities.
There is quite a bit involved with proper lock maintenance. Not only should you keep your locks lubricated, but you should also ensure that your doors are properly hung. It's also important to check on strike plate screws to ensure that they're tightened.
Again, while you might be able to perform this maintenance on your own, you won't be able to apply the same level of experience as a seasoned locksmith would. In short, if you want it done right, it's best to bring in a locksmith to do it for you.
Lock Entry
Have you locked your keys inside of your house or your car? If so, you should refrain from breaking windows. Instead, you should call up your local locksmith.
Locksmiths have all of the tools needed to gain access to locked doors, ensuring that no damage is done while you're trying to make your way back into your vehicle or home.
In Need of a Wood Dale Locksmith?
Are your locks damaged beyond repair? Are you looking to have new locks installed on your home? In need of a Wood Dale locksmith? If so, Suburban Door Check and Lock Service the company to call.
Serving the Wood Dale area for decades and decades, we've helped to ensure the security of countless area homes and business properties. Our team would be glad to assist you.
Contact us now to discuss your security needs!