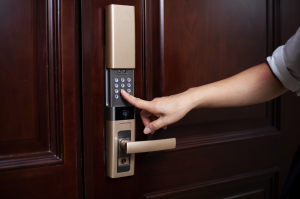 As time passes, technology improves. This is a general rule that applies to just about everything, with door locks being no exception. While traditional keyed locks still have their place, they are gradually giving way to the keyless electronic lock—a form of lock that offers superb functionality and performance.
Are you getting ready to add new locks to your Melrose Park home? If so, you should consider going with electric locks. In doing so, you will enjoy a number of benefits that you wouldn't get with traditional locks. Below, we're going to discuss these benefits in detail.
Advantages of Electronic Locks:
While traditional locks have their advantages, so too do electronic locks. In fact, the advantages of electronic locks generally outweigh the advantages of traditional locks. Those advantages are as follows:
No Keys Required
One of the biggest advantages of using electronic locks is that you can forego the use of physical keys. Instead, electronic locks allow you to gain access to your home with the use of passcodes.
What this means is that you don't have to be responsible for a physical key at all times. You can go swimming, take a run, and participate in a variety of other out-of-the-house activities without having to take a key with you.
This lightened load might not seem like a big deal when read in writing. However, once you experience the key-free life, it's highly unlikely that you'll ever want to switch back. Electronic locks are just too convenient to pass up.
Accessibility Changes on a Whim
There are tons of advantages to keyless locks. Perhaps the biggest advantage is that they can accommodate accessibility changes on a whim.
For instance, let's say that you want to deny access to someone who once knew your passcode. With electronic locks, you can easily do so. All you have to do is utilize the corresponding software to create a new passcode that only you know.
When it comes to traditional locks, this is not a possibility. To deny access to traditional locks, you would have to either physically take a key from an unwanted individual or change your locks entirely.
Improve the Value of Your Home
If you're thinking about selling your home in the near future, electronic locks could be a great choice. Why? Because home buyers, in general, are willing to pay more money for electronic locks than they are for traditional locks.
Electronic locks are "in" right now. Not only are home buyers pursuing them for their functional capabilities, but for their aesthetics as well. Electronic locks supply their corresponding homes with a touch of modernity. Most home buyers are willing to spend a little extra money to obtain this.
Highly Secure
A common misconception about electronic locks is that they're not as secure as traditional locks. However, the fact of the matter is that this couldn't be further from the truth. As long as their corresponding passcodes are kept under wraps, electronic locks are as secure as traditional locks.
This is because most of them don't contain keyholes, and therefore, they can't be picked. In other words, they're impenetrable to those who do not know the access code.
Looking for a Locksmith in Melrose Park?
Are electronic locks right for your home? If so, and if you're looking for a locksmith to install electronic locks in Melrose Park, Illinois, Suburban Door Check and Lock Service is the company to call.
Featuring a team of skilled and experienced locksmiths, we have installed electronic locks on countless homes throughout the Melrose Park area. Offering a wide variety of electronic locks, we're sure to have something you like.
Contact us today to discuss your needs!