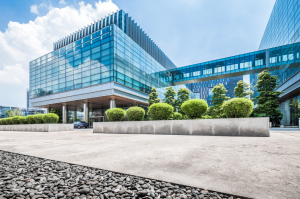 Whether you're building a commercial property from scratch or are making some renovations to your existing commercial property, it's important to consider its locks. There are a number of different commercial lock options available, each of which provides something a little different as far as functionality and performance capabilities.
Need a little help choosing the right locks for your commercial property? This article should be of use to you. Below, we're going to discuss the upsides and downsides of different types of commercial locks and locksmith services in Buffalo Grove.
Electronic Keypad Locks
Though they've been around for years, electronic keypad locks are really starting to take off in a big way. Most of the new commercial buildings being built are equipped with these locks. This is so not only for their top-notch functional capabilities, but for their sleek aesthetics as well.
Electronic keypad locks thrive in almost every capacity. Not only are they exceedingly secure and easy to access, but they also eliminate the need for carrying physical keys. This allows their users to access them at any time.
Not to mention, these locks allow for a great deal of access variation. Because they're programmed through software, they allow their users to change access capabilities in just a few second's time.
Want to deny access to a newly fired employee? Simply remove their passcode from the corresponding lock software. Want to provide access to a newly hired employee? Simply add a new passcode to the software and your new employee can use their code as needed.
Crash Bars
Crash bars are the long, narrow, horizontal locks that stretch from left to right on a door. Disengaged with a simple bump of the hip, they are exceedingly easy to open. For this reason, they are often used on fire exit doors.
However, crash bars aren't just used on fire exit doors. In fact, they're used on doors in a wide variety of capacities. Most typically, you'll see crash bars in factories, warehouses, gymnasiums, and other large buildings. However, it's not uncommon to see them in offices and restaurants either.
Cylindrical Locks
Durable, reliable, and immensely popular, cylindrical locks are what most people think of when they think of door locks. These locks are generally built into door knobs or door handles, and are disengaged with the use of physical keys.
Cylindrical locks can be used on both interior and exterior doors. However, in commercial settings, you will often find them on interior doors, particularly those that separate main rooms from smaller rooms.
While they're losing some popularity to electronic locks, cylindrical locks are still very common. This is due, in large part, to their relatively low price.
Push Paddle Locks
Similar to panic bars, push paddles can be disengaged with a slight bump. However, whereas panic bars stretch horizontally across their corresponding doors, push paddles sit vertically on one side of their doors. What this means is that they're not quite as easy to disengage as are panic bars.
However, this certainly doesn't mean that push paddles are a bad option. Durable, reliable, and secure, they work terrifically for both interior and exterior purposes.
Looking for a Commercial Locksmith in Buffalo Grove, Illinois Area?
Are you in need of new commercial locks? Looking for commercial locksmith in Buffalo Grove, in particular? If so, the professional locksmiths with Suburban Door Check and Lock Service are the people to see.
We offer all of the locks discussed above, installing them for our customers in as quick and as professional a manner as possible. Regardless of your lock needs, we are the professional Buffalo Grove area locksmiths you need to call.
Contact us now to discuss your lock needs!