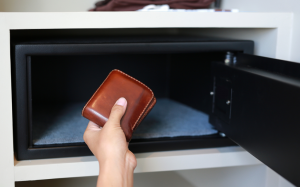 Are you trying to find a way to safely store away your weapons, medications, or jewelry? Maybe you're trying to establish a centralized storage space for your vital documents? If so, your best bet is to install a safe.
Safes are the most secure home storage entities on the market. Not only do they protect their contents from thieves, but from floods, fires, and other harmful phenomenon.
Interested in installing a safe in Hinsdale, Illinois? Looking for a little more information on the process? This blog post has you covered.
Types of Safes Available:
There are all types of safes on the market today. However, the three most common types of safes are floor safes, wall safes, and freestanding safes. We're going to cover the specifics of each below.
Floor Safes
Floor safes are exactly what they sound like they would be: safes that are installed in the floor. These safes are hugely beneficial for two reasons: 1. They're very difficult to find, and 2. In the event that they are found, they're almost impossible to remove from the floor. Though they're most popular in commercial settings, floor safes are sometimes used in residences as well.
Wall Safes
Whereas floor safes are installed in floors, the aptly-named wall safes are installed in walls. While they're a little easier to spot than floor safes, they're almost impossible to pull out and steal. Wall safes are commonly used by both businesses and homeowners.
Freestanding Safes
Freestanding safes offer the same level of security as floor and wall safes, but can — unless they're extremely heavy or bolted down — be picked up and walked away with. These are generally the most affordable types of safes available, and are most typically found in homes.
Why Invest in a Safe?
You might hesitate at the idea of buying a safe. Perhaps you're questioning whether your investment will benefit you in the long run? Safes are highly beneficial for a number of reasons, some of which will be reviewed now.
Protect Items from Natural Disaster
Heavy rains, tornadoes, and fires are all capable of destroying your many valued possessions. All it takes is one natural disaster for a large portion of your life to be wiped away.
However, if you store your most valued and treasured items in a safe, these items will be protected from such damage. Just make sure to look for a safe with waterproof and fireproof capabilities.
Keep Dangerous Items Secure
Perhaps you have kids in your home? Maybe you have a dog? If so, your potentially dangerous items (i.e. guns, knives, medications) should be kept reasonably out of reach.
What's the best way to keep these items away from those who aren't aware of their dangers? By locking them securely in a safe. Safes are essentially impenetrable to those without direct access capabilities, ensuring that they won't be accessed by your kids or your pets.
Repel Thieves
hough you hope that it never happens, there is a potential that thieves could break into your home or commercial property. By installing a safe, you can ensure that these thieves leave without your most needed and treasured items.
Looking for a Home or Business Safe in Hinsdale, Illinois?
Do you need help choosing a home or business safe in Hinsdale, Illinois? Not sure what type of safe would best suit your purposes? If so, Suburban Door Check and Lock Service can help you.
We sell and install a wide variety of safes and know exactly what each has to offer. Whether you're just looking for some safe buying advice, or require our installation services, we can accommodate you.
Contact us today to discuss your home safe needs!