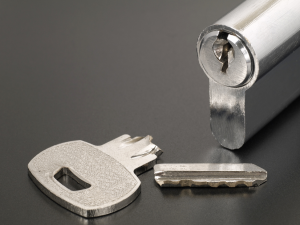 Picture this: you walk up to your front door and you put your key into the keyhole. You give it a turn, and all of a sudden…it snaps right off in your lock. Now, you can't even get into your house. There's no question about it: you have a problem on your hands.
Fortunately, this problem can be fixed. All it takes are a couple of tools and a little know-how. Need help removing a broken key from your lock in Oak Brook, Illinois? Read below to find out how.
Use Extractor Tools
The most recommended way of removing a broken key from a lock is with extractor tools. Extractor tools are built specifically for the purpose of removing broken keys from locks, and can be bought online for fairly affordable prices.
These tools come in different sizes, with each accommodating locks of corresponding sizes. While you could buy just one extractor tool to deal with your specific and current problem, the better idea would be to buy a set. By buying a full set, you ensure that you have the right size extractor tool. You also set yourself up to fix future broken-key problems.
Once you have your extractor tools, start by choosing the smallest one and slide it into your keyhole. It might be a good idea to lubricate the keyhole with a silicone spray before beginning. You'll also want to make sure that the lock is in its locked position.
As you're pushing the extractor tool into the keyhole, keep it flush against the groove of the broken key with its hook portion facing up. Then, once you've reached the end of the key, turn the extractor hook inward. This will grasp the key.
From there, just slowly pull on the extractor until the key has been removed. You might have to go slowly to ensure that the key doesn't slip.
Use a Piece of a Jigsaw Blade
If you don't have any extractor tools, but you do have a jigsaw blade on hand, you can use it to mimic an extractor tool. To do so, you simply break off an end of the blade, and cover the opposing end in duct tape.
Once you have your makeshift extractor tool ready, you can use it in the same way that you would use an authentic extractor tool. Insert it along the groove of the broken key, and pull the key out slowly.
Use Tweezers
In some cases, you might be able to pull out a broken key with a pair of tweezers. However, this is only possible if there's a slight portion of the key still sticking out of the keyhole, which is not always the case.
If you decide to use tweezers to remove a broken key, you should do so with great care. If you're not careful, you could end up pushing the key further back into the keyhole, making it even more difficult to retrieve.
Bring in a Professional Oak Brook Locksmith
If you can't seem to get the key out on your own, your best bet is to bring in a professional locksmith. Locksmiths have encountered this particular problem a countless number of times, and can remedy it with great ease.
Need Help Removing a Key from Your Lock in Oak Brook, Illinois?
Are you struggling to remove a broken key from your lock? In need of the help of a professional locksmith in Oak Brook, Illinois? If so, Suburban Door Check and Lock Service is the company to call.
Featuring a team of highly skilled and knowledgeable locksmiths, we'll have no trouble removing your broken key from your lock. Our team looks forward to helping you.
Contact us now to get the process started!