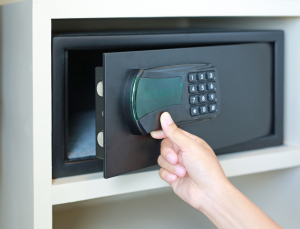 Are you considering installing a home safe in Oak Brook, Illinois? Wondering whether or not it's worth the investment? While we recommend that every homeowner has a home safe, we understand that not all homeowners see them as an absolute necessity.
Nonetheless, there are quite a few ways that home safes can be used. Are you curious as to what these are? Read below! This blog post will review 5 of the most common uses of home safes.
1. Store Cash
Perhaps you prefer to store substantial amounts of cash in your home? If so, you'll want to keep it protected. After all, once cash has been stolen or destroyed, it can't be brought back.
A home safe is a perfect place to store cash. Home safes will not only protect cash from potential thieves, but from fires and floods as well.
If you're looking for a home safe to store cash in, we recommend that you speak with a locksmith. Professional locksmiths are knowledgeable regarding safes, and can even install them for you.
2. Keep Dangerous Items Away from Kids
If you have children, you'll want to do everything in your power to keep them safe. There's a guaranteed way to keep your kids away from dangerous items such as firearms and medications: by utilizing a home safe. A home safe can securely lock your dangerous items away, allowing only you to access them.
There are all types of safes available, including ones that are designed to accommodate guns. Regardless of what items you're looking to keep away from your children, there should be a safe to accommodate you.
3. Protect Heirlooms
Perhaps you had something handed down to you by your father, mother, grandfather, or grandmother? If so, you'll probably want to keep these sentimental items as safe as possible. After all, after an heirloom is gone, it can't be replaced.
Home safes make great storage spaces for family heirlooms, protecting them from thieves, fire damage, water damage, and more.
4. Storing Important Documents
In our society, there are certain documents that we want to keep safe. These documents include everything from birth certificates, to home deeds, to insurance policies, to passports, and more.
What's the best way to keep these documents safe inside your home? A home safe! By installing a safe in your home, you can store your important documents with not only a great deal of security, but with a consistent storage space as well, meaning you won't misplace them.
5. Safeguard Jewelry
Perhaps you own a piece of jewelry that's worth hundreds or thousands of dollars? If so, you'll likely want to protect your investment.
The best way to protect your jewelry is, of course, with a home safe. A home safe will keep your jewelry safe from water damage, fire damage, and shady individuals alike.
If you're interested in installing a home safe, we recommend calling a professional locksmith company. They can not only help you choose the right safe, but they can install it for you as well.
Looking for a Home Safe in Oak Brook?
Do you think your home could benefit from a safe? Looking for a high-quality home safe in Oak Brook, Illinois? If so, Suburban Door Check and Lock Service has you covered.
We offer a wide variety of home safes. Regardless of the size you're looking for, we can accommodate you. Our team can not only help you choose a safe, but can install it for you as well.
Contact us now to discuss your home safe needs!