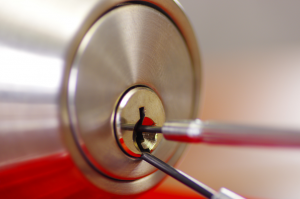 A locksmith is quite simply defined as a person who makes, installs and repairs locks. However, while this definition is technically correct, it doesn't quite encompass exactly what a locksmith in Elk Grove Village does.
Locksmiths are highly-skilled individuals who know just about everything there is to know about locks and lock technology. You can utilize their services for a number of purposes, which we will review below.
Change Locks
There are a number of different reasons to change your locks. Maybe an ex-friend or spouse still has keys? Perhaps you've recently experienced a break-in? If so, it's recommended that you have your locks changed as quickly as possible.
While you could attempt to change the locks yourself, your best bet is to call up a locksmith. He or she will ensure that your locks are installed in the proper and secure manner.
Make New Keys
Perhaps you're looking to make new keys for your locks? If this is the case, you have two primary options. You could have new keys made at a big box store like Walmart, or you could have new keys made by a locksmith.
Locksmiths can not only produce high-quality keys from existing keys, but from existing locks as well. Big box stores require the use of existing keys in order to make copies.
Repair Broken Locks
Over the years, locks deteriorate. Because of this, they begin to experience a variety of different problems. Some of these problems will require a replacement. However, many of these problems will only require a repair.
If your keys are turning roughly, your key is broken off in a lock, or you're experiencing some other type of problem, a locksmith can help you.
Unlock Locked Doors
Maybe you lost your house key while you were out? Perhaps you locked the doors to your house without first grabbing your keys? In any case, you're in a situation where you can't unlock your door.
In situations like these, some people end up causing damage to themselves or their property by trying to break in, climb through windows, etc. We're here to tell you that this is not necessary. To get yourself out of this situation, all you have to do is to call a local locksmith.
A professional locksmith will show up quickly to your home and unlock your door with the use of various tools. This will get you back inside your home in a safe and timely manner.
Educate You About Locks and Options
Over the years, lock technology has progressed significantly. These days, there are all types of locks that can be used on homes and commercial properties.
If you're trying to gain an understanding as to what types of locks are available to you, a locksmith is just the person you should speak with. After all, locksmiths are experts on locks and lock technology.
Your local locksmith can teach you about electronic locks, manual locks, lock automation, and a variety of other relevant matters. In essence, if you want to fully benefit from modern lock technology, a locksmith is the person to see.
Make Use of Professional Locksmith Services in Elk Grove Village
Do you require the services of a professional locksmith? Looking to make use of professional locksmith services in Elk Grove Village? If so, the locksmiths at Suburban Door Check and Lock Service are the people to call.
Our team of experienced and skilled locksmiths can carry out all existing lock tasks. Whether you need lock installation or repair, we can accommodate you.
Contact us now to discuss your lock needs!