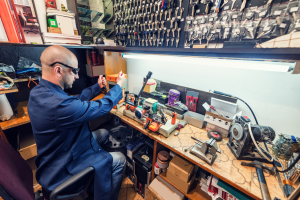 Are you building a new location for your Wheaton, Illinois business? Perhaps your business's existing location is having some trouble with its locks? In any case, you will benefit from installing new locks on your commercial property.
The main thing left to do now is to choose the type of locks you'd like to install. There are a range of commercial locks available, all of which have their own benefits and drawbacks. We will discuss these locks in detail below so that you can decide which kind is best for you and your business.
Electronic Keypad Locks in Wheaton
These days, many businesses are opting for electronic keypad locks for their commercial properties. This is because electronic keypad locks provide the most in terms of functionality and usability.
The great thing about these locks is that they allow entry with a number of different passcodes. Instead of giving each of your employees a key, you can give each of your employees an access code. This way, when one of your employees moves on, you can simply deactivate his or her passcode instead of trying to obtain his or her key.
When manufactured without cylinders, electronic keypad locks are nearly impossible for unwanted individuals to get through. They're as secure as door locks can get.
Crash Bar Locks
You will typically find crash bar locks in factories, warehouses, gymnasiums, and other large buildings. These locks are often used on emergency doors, as they can be quickly disengaged with just a slight bump.
Crash bar locks are designed to be long, skinny, horizontal bars. They differ from many locks in that they can be disengaged without the use of your hands.
Generally, crash bars are installed on the interiors of doors. However, on rare occasions, you'll see them on the exteriors of doors.
Cylindrical Locks
If you prefer an old-school type of lock, you should opt for cylindrical locks. These are the traditional key locks that have been used in commercial buildings for hundreds of years. Strong, sturdy, and durable, what they lack in flash and sophistication, they make up for in functionality.
Cylindrical locks can be used on doors of all kinds, including front doors, adjoining doors, storage doors, and more. If you have a door, a cylindrical lock can accommodate it.
One potentially negative aspect of cylindrical locks is that they always require a key. If an ex-employee does not return his or her key, he or she will always have access to your building.
Push Paddles
Push paddle locks are very similar to crash bar locks. They operate in the same general way, disengaging upon physical contact.
However, unlike crash bars, push paddles do not take up the entire width of a door. Instead, they are installed on just one half of a door. This makes them a little harder to disengage, but it also helps to ensure that they aren't disengaged by accident.
These locks are used on a variety of different types of doors, from entrance doors, to room-to-room doors, and more. You'll find these locks in a number of commercial buildings, including, but not limited to hospitals, restaurants, and offices.
Looking for a Commercial Locksmith in Wheaton?
Is your commercial property in need of new locks? Looking for a commercial locksmith in Wheaton, Illinois? If so, Suburban Door Check and Lock Service is the company to see.
We offer a wide variety of commercial locks, from electric strike locks, to electronic keypad locks, to cylindrical locks, and much more.
Contact us today to discuss your needs!