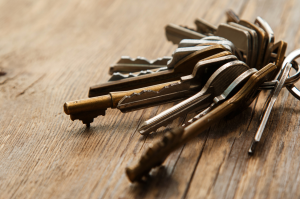 Regardless of the nature of your business, your commercial property probably stores some valuable equipment or inventory. Because of this, you'll likely want to ensure that the property is secured. A set of quality door locks is a critical first step in doing so.
How do you ensure that your locks are always in working order? By utilizing the services of a commercial locksmith. Here are 4 reasons to call a commercial locksmith in Bedford Park, Illinois.
1. Your Locks and Handles are Antiquated
Functionality and styles change as time passes. What might have been a perfectly fine lock system 30 years ago might not be so great today.
If your door locks and knobs look antiquated, there is a fairly good chance that the mechanisms within the locks may be dated and worn as well. For this reason, it's recommended that you have them evaluated by a Bedford Park locksmith.
There are a variety of different locks, keypads, door strikes and handles available today. An experienced Bedford Park locksmith should be able to supply and install a locking system that is an improvement over both the aesthetic and the functionality of your current system.
2. You Need New Keys
Perhaps a new employee needs access to your office? Maybe one of your current employees is a little forgetful with his or her possessions? In any case, you're in need of new keys.
When this situation arises, you have a few different options. One option is to go to a big box store and have your new keys made there. The other option is to have a professional locksmith make new key copies for you.
Both options are suitable. However, if you do not have a physical copy of your key, you will need to have your new keys made based solely on the shapes of your locks. This will require a locksmith to come out to your location in order to make a proper mold.
3. Your Locks are Malfunctioning
Do you struggle to turn your key every time you insert it into one of your locks? Do your locks feel as though they're becoming disconnected from your doors? If so, you are likely dealing with some sort of malfunction that requires a repair.
There's a chance that you might be able to make some of these repairs yourself. However, if you don't feel like making repairs yourself, or if you can't seem to make the necessary repair, a Bedford Park locksmith can help. He or she can come directly to your commercial property and sort out the issue.
4. You Want to Learn About Modern Lock Technology
Perhaps you're tired of your old locks? Maybe you're looking to make an upgrade to new, more sophisticated locks? If so, you could really benefit from speaking with a certified commercial locksmith.
There are a variety of different locks on the market today, from electronic keypad locks, to electric strike locks, to crash bars, and much more. Each of these locks provides different benefits and different drawbacks, with some suiting your needs, and others failing to do so.
An experienced locksmith can educate you on these different locks, helping you find the one that is best for your specific purposes.
Looking for a Reputable Commercial Locksmith in Bedford Park?
Are your locks starting to show their age? Do you need to have new locks installed on your commercial property? Looking for a reputable commercial locksmith in Bedford Park, Illinois? Suburban Door Check and Lock Service is the company to call.
Our team of seasoned commercial locksmiths is beyond experienced in the installation, maintenance, and repair of all types of commercial locks.
Contact us today to discuss your security needs!