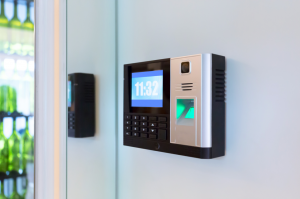 Are you building a new office, factory, or warehouse? Are the locks on your existing office, factory, or warehouse losing their effectiveness? If so, it's probably time to call in a trusted commercial locksmith. He or she will be able to equip your building with all new locks, ensuring its safety and security.
The question is: what type of locks should your commercial building use? After all, there are a wide variety of commercial locks available, all of which have their own advantages and drawbacks.
Which kind of locks are right for you?
To help you decide, we've created a helpful guide. Below, we'll review the characteristics of different types of commercial locks in Oak Brook, Illinois.
Keypad Locks
More popular than ever are electronic keypad locks. These locks excel on a number of different fronts, providing top-notch security and access variation.
Keypad locks can be accessed by anyone who knows their programmed codes. Each lock is able to accept a variety of different codes, allowing you to assign different codes to different employees. When an employee no longer works for your company, you can quite simply deprogram his or her code from the lock.
Keypad locks operate without the use of keys, which makes them essentially impenetrable to those who don't know their codes.
Crash Bars
Often found in gymnasiums, warehouses, factories, movie theaters, and other large establishments, crash bars are locks which can be disengaged with a light forward push. This makes them great for fire doors, which need to be able to open as quickly as possible.
Crash bars extend horizontally across the entirety of a door, allowing you to bump into them with the simplest of ease. Because of this, you can typically open them without the use of your hands.
Cylindrical Locks
Cylindrical locks are the traditional and classic commercial locks. Utilizing physical keys, they are well-known for their extreme durability, thriving through years and years of consistent use.
These locks are commonly used on all kinds of commercial doors, from front doors, to office doors, to back doors, and more. The only type of door you often won't find them on is emergency exit doors. This is because they generally can't be opened quickly or easily enough to allow for a rapid exit.
Electric Strike Locks
Typically used on outside doors, electric strike locks are some of the most secure commercial locks available today. To be disengaged, they require the swiping of a corresponding scan card. Therefore, only those who have scan cards will be able to access them.
In most cases, electric strike locks are only engaged and disengaged once every business day. They are typically disengaged at the beginning of the work day and engaged at the end of the work day.
Push Paddles
The last type of commercial lock we'll review is the push paddle lock. Push paddle locks behave in a way that is similar to crash bars, except they are a little different.
Whereas crash bars extend horizontally across the entire length of a door, push paddles only span about a fourth of a door. Because of this, they require a little bit more precision when being used.
Looking for Commercial Lock Installation in Oak Brook?
If you're looking for commercial lock installation in Oak Brook, look no further. Suburban Door Check and Lock Service can accommodate you.
Regardless of whether you need electric strike locks, push paddle locks, electronic keypad locks, or otherwise, we can help you. Our team of experienced locksmiths will serve you with complete professionalism.
Contact us today to discuss your needs!